15 December 2005 Edition
Blair petitioned over education cuts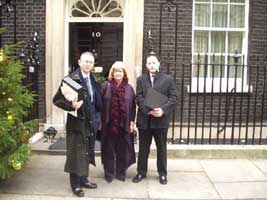 A Sinn Féin delegation handed in a petition of 12,000 signatures at Downing Street on Tuesday 13 December calling on British Prime Minister Tony Blair to stop savage cuts in the North's education budget.
The party's Education spokesperson Michael Ferguson severely criticised the British Government which has forced the North's Education boards to cut essential services so that they remain within their budgets.
Accompanying Ferguson to Downing Street were Derry City Councillor Maeve McLaughlin and Banbridge Councillor Desy Ward.
Ferguson said the petition was a token of the anger and frustration felt right across the Six Counties about deteriorating conditions in schools and called on Tony Blair to re-establish the Assembly and cross-border institutions as a way of delivering an adequate budget to support education and learning services
"In the last two years we have lost over 500 school staff and in one area alone we have lost over 78 school crossings and school transport, in rural areas, where it is most needed has seen massive cut backs."
Ferguson added that instead of building confidence by investing in our schools, the British Government is boasting about so-called "efficiency savings".
"These so-called savings have left schools without music and sports coaching, without safe routes to school and teachers whose morale is at an all time low."