15 December 2005 Edition
Books - Remarkable man, remarkable book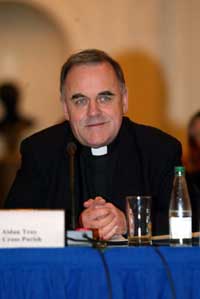 Life in an internment camp
Fron-Goch —
The Boiling Pot
By Lyn Ebenezer
Published by Gwasg Carreg Gwalch
Price €12.50
My father once told me that prison does one of two things to men or an organisation. It makes them stronger in character and strengthens their resolve or it weakens them into rancour and divide. The British concentration camp Fron-Goch, where the Volunteers of the 1916 Rising were imprisoned, certainly did the former.
Lyn Ebenezer, a journalist by trade was inspired to write this book after a chance encounter with the 1916 veteran Joe Clarke in the early 1970s. Written from a Welsh perspective the book gives a previously untold insight of both in and outside the camp.
Fron-Goch; The Boiling Pot, tells the story of Fron-Goch, from its beginnings as a landed estate where Wales's first whiskey was distilled to the interment camp which was to turn into a university of revolution.
Ebenezer's easy style takes the reader on an amazing journey through life in the camp, where the lanes between huts were called Pearse Street and Connolly Street; where the first republican Blanket men protested, where Rats and damp made prison life hell and where the IRB set up a network that was to wage war on the forces of occupation in Ireland.
Fron-Goch ; The Boiling Pot is full of little gems of stories about the men who made up the population of the prison, like Michael Collins giving guards presents from his mother to curry favour with them but neglecting to tell them that she had died nine years before. Or Tom Daly, an Irish Citizen Army man who ran what was called Daly's Circus, where he caught rats, let them run under his clothes and then ended his show by biting their heads off.
Alongside tales of mirth, Ebenezer touches gently on the stories of sadness and struggle. Like that of William Halpin who suffered from depression and tried to end his life and ended up dying in Grangegorman Mental Hospital within a year of his release. Or the constant struggle with the prison officers for recognition of political status and the punishments meted out as a result.
Using his journalistic training well, Ebenezer has sourced valuable historical information and personal recollections from numerous sources and presented them to the reader in one of the most readable of historical books.
My only criticism is the absence of index, which magpie historians like myself find useful but this is a minor gripe and the book will be placed on my bookshelf where it makes a perfect accompaniment to Seán O'Mahony's more academic work, Fron-goch University of Revolution
BY SHANE Mac THOMÁIS
Holy Cross — A Personal Experience
By Aidan Troy
Published by
Currach Press
ISBN 1-85607-922-8
€19.99/£9.99
Aidan Troy is a remarkable man. No more remarkable than the parents and children of Holy Cross Girl's School, Ardoyne, but remarkable nonetheless.
His arrival in Belfast, after a prestigious career in the Passionist Order, was that strange mixture of fate and coincidence which would make even the most ardent atheist, such as this writer, believe in some higher power.
While having some knowledge of the city, its history and politics, nothing could have prepared him for what were in effect his first 13 weeks on the job.
The events of the unionist blockade of Holy Cross Girl's School are well known to the readers of An Phoblacht. A coalition of paramilitaries, politicians and residents spent 13 long weeks denying Catholic schoolgirls access to their school. As the children and the parents asserted their rights in a peaceful and dignified manor, they were subjected to a torrent of verbal and physical abuse.
Fr Aidan Troy and his fellow Passionist Fr Garry Donegan were witnesses to the entire period. More than any other community leaders they won the trust of the parents and children, and stood by their side at every moment of that difficult three months.
Holy Cross A Personal Experience charts this moment. Aidan Troy manages to narrate his personal story with a degree of dignity and magnanimity, which is hard to believe. There is no bitterness, no malice, not even a sense of anger. Rather, each page is filled with a desire to explain the events of the Holy Cross blockade with a desire to recount the truth but also to assist the healing and rebuilding process which continues five years after the events themselves.
Like its author, Holy Cross A Personal Experience, is a remarkable book. It should be widely read and widely considered. It not only tells of events but also explores ways to both overcome them and prevent them from happening in the future.
BY EOIN Ó BROIN