15 December 2005 Edition
Republican prisoners must be released
BY ART MacEOIN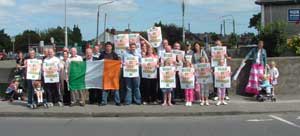 Political prisoners: Irish Government reneges on provisions of Agreement
Some things never seem to change. Political subterfuge by British Secretaries of State, for example. It has been a common characteristic of them all. From Patrick Mayhew and Peter Brooke to Mo Mowlam and Peter Mandelson and right through to Peter Hain. Each and every one has demonstrated a higher than average ability to pull a card or two from up their sleeves at the last minute.
Their response to any resulting political or media scrutiny of their various strokes has of course varied. For some it has been feigned innocence, some contrived indignation and others outright, brazen arrogance. For Peter Hain it has been all three.
A few months ago he ordered the arrest of Sean Kelly, a few weeks ago he appointed two Portadown Orangemen to the Parades Commission. In between times he slipped the inclusion of British state forces into the 'On The Runs' Bill.
Hain's background in the anti-Apartheid movement in the '60s and '70s might have retrospectively earned him a fool's pardon on the Sean Kelly affair had he learned from having to release Kelly again just weeks later. Not so now.
Four years ago the two governments agreed to put in place a scheme to resolve the issue of OTRs. The scheme did not include British state forces, elements of which are still at war with republicans. There are no British 'On the Runs'. Maybe there should be, but there aren't because those of them who have been involved in collusion and the killing and maiming of many nationalists enjoy the full protection of their political masters and the various institutions of the British State.
Following the publication of the OTR legislation Bertie Ahern was quick to clarify that he was not aware in advance that the British Government had written their own forces into the scheme.
Political irony there of course. Feigned innocence, contrived indignation and outright brazen arrogance might be thoughts which came to Peter Hain's mind as he read the Taoiseach's response to media queries on whether or not the British had stuck to what they agreed at Weston Park.
The Irish Government has, after all, refused to deliver fully on the prisoner release provisions of the Good Friday Agreement which was signed almost seven years ago. This, despite the fact that these provisions were agreed by the political parties and both Governments and endorsed by the vast majority of voters in referendum North and South , despite the fact that the Irish Supreme Court ruled that these prisoners were 'qualifying' prisoners under the Good Friday Agreement, and despite the fact that the Irish Government has on at least two occasions in the course of negotiations in recent years agreed and promised to release the republican prisoners in Castlerea.
More recently the Irish Government, usually through the medium of Michael McDowell, has set its face against the release of the Castlerea prisoners.
And of course both governments have also yet to address their commitments under the Agreement with respect to former prisoners who continue to suffer particular discriminations arising from their imprisonment. Discriminations which include legal and administrative barriers to employment, restrictions on travel, pension restrictions, fostering rights and many more.
Yes, some things never change. Republicans face into another Christmas and New Year with a series of campaigns on behalf of prisoners and ex-prisoners to pursue.
We must not allow either government off the hook on their commitments. Republican prisoners must be released, the issue of OTRs resolved and political ex-prisoners must be granted Full Citizenship Rights.