15 December 2005 Edition
Massive turnout a lesson in solidarity
BY Justin Moran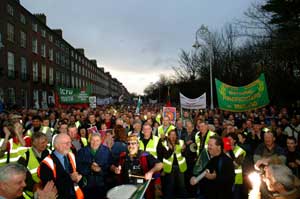 Walking through Dublin last Friday was a lesson in solidarity. Over 80,000 people in Dublin and at least 50,000 more right across the country stood up in a concrete display of solidarity with workers on Irish Ferries vessels and their rejection of capitalism's race to the bottom.
Bus drivers and teachers. Plasterers and flight attendants. Postmen and journalists. Taxi drivers and civil servants. Pilots and students. Train drivers and college lecturers.
Unions from Scotland and England marched with unions from Belfast and Dublin. Workers from Poland and Lithuania marched with workers from Darndale and Tallaght.
An endless stream of people stretching from Merrion Square across the city centre to Parnell Square where the tail-end of the march had not moved off as the front arrived at the speaking platform.
Led by the county's main trade union leaders and politicians from Sinn Féin and the Labour Party, marchers were greeted with spontaneous applause at points along the route.
At Merrion Square, marchers were addressed by leading trade unionists from SIPTU and the Irish Congress of Trade Unions.
"We are living in a period which will be characterised by the most sustained assault on the gains made by working people over the last 50 years," SIPTU President Jack O'Connor told the crowd. "And this assault is driven by people who are afflicted with an addiction to the creation of profit for its own sake."
"We have been watching for years now while the interests of a tiny minority have taken precedence over the great mass of men and women and children of this country.
"And we say — wake up — live in the real world! Wake up — enough is enough."
Sinn Féin President Gerry Adams took part in the Dublin march along with Mary Lou McDonald MEP and most of the party's Leinster House team with Martin Ferris TD taking part in the Tralee demonstration along with the Mayor of Kerry Toireasa Ní Fhearíosa.
"Today is about shouting stop and demanding that all workers rights are protected," said Adams. "Today's rallies are a demand for a debate around the core values of how our society should be organised.
"The Irish Ferries situation is only the latest example of the ill-treatment of workers in this country and across Europe. Increasingly, workers are viewed as simply another commodity to be used and abused at the whim of their employers.
"Some companies view the chipping away of workers' rights as an acceptable practice in the search for profits. It is time that they realised that this is not the 19th Century and there is no returning to the days of the mass exploitation."
And yet, as marchers turned homeward still shaken from the sight of their own strength, many did so with trepidatiocannot wash their hands of this situation and that they must stand up to unscrupulous employers whatever shape or form. It is vital for all of us and our children's future that we stand united against the exploitation of workers, Irish or foreign. There can be no return to the 19th Century days of mass exploitation."
Trades Union officials spoke of their experience of exploitation by unscrupulous employers. In Waterford, Davy Lane, SIPTU Official, and Sinn Féin Chairperson in Waterford said that there was a growing trend of exploitation and displacement in the construction industry