15 December 2005 Edition
Myth of 'giveaway' Budget
BY Mícheál MacDonncha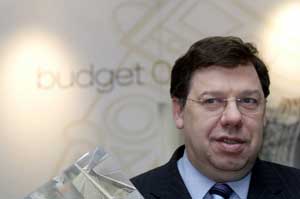 Once again this year we were treated to the annual media myth of a 'giveaway' Budget. Long overdue rises in social welfare rates, measures to keep people on the minimum wage out of the tax net and to keep those on average industrial wage out of the upper 42% tax rate were described as 'giveaways' by many in the media.
But Finance Minister was not giving away money to the people who will benefit from these Budget items. He was giving back to people the money raised from them through income tax, VAT and a whole range of stealth taxes. In other words he was giving them back their own money. This money is held by the Government in trust for the people who elect Governments in order to provide services in health, education, transport and so on. They have a right to expect those services to be delivered equitably and efficiently.
But instead the Fianna Fáil/PD Government has made an art form of inequity and inefficiency. And this is where the real 'giveaway' Budget comes in. Because public money has been given away in this and previous Budgets to the wealthy friends of the Government who are milking the healthcare system for private profit.
On Tuesday the public spending watchdog, the C&AG, published its report on the bungled health service computer system, PPARS. The report highlights the massive waste of public money on this failed project. The bill rose from the original estimate of €9.1 million to a projected cost of €195 million to the end of 2006. €57 million of this was spent on consultants, including €38.5 million to Deloitte and Touche.
This project has enriched consultants and others with no resultant savings or greater efficiencies for the health services. On the contrary, the bungled system has set back progress towards integrated health services.
In reply to a Dáil Question from Sinn Féin's Caoimhghin Ó Caoláin last month, the Tánaiste and Minister for Health and Children Mary Harney gave the average annual cost of medical card health service entitlements as €954.62 per person. The €195,000,000 wasted on PPARS would pay for medical card services for over 204,000 people for a full year. Before the last General Election the Fianna Fáil/PD government promised to extend the medical card to a further 200,000 people. They duly broke that promise as they continued to allow public money to be poured down the drain, enriching private businesses while public patients suffered.
This was the real giveaway and it happened in every Budget since 1997. Similarly, Finance Minister Brian Cowen in Budget 2006 has extended tax reliefs for developers of private hospitals. Caoimhghin Ó Caoláin asked in the Dáil what these subsidies for the private health industry have cost so far and where the hospitals are located but the Minister could not tell. But the Dáil queries did reveal that these reliefs are not based on any assessment of public health needs.
Speculators, developers and investors in the private health industry are now queuing up to slurp from this trough of public money. Former Finance Minister Charlie McCreevy has admitted that he introduced that tax relief on the suggestion of a private hospital developer in his own constituency. And that Budget giveaway is no myth.