15 December 2005 Edition
Irish Ferries crisis - Two steps forward, one step back
BY Justin Moran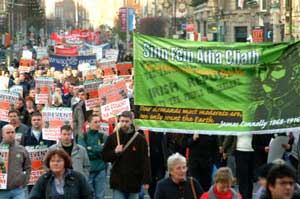 As An Phoblacht goes to press union members are converging on Liberty Hall to cast their ballot on the compromise agreement hammered out at the Labour Relations Commission on Wednesday morning.
With the deal receiving the backing of the negotiating team and after increasing tensions between workers following the company's threat to withdraw redundancy payments, it is inevitable the deal will be accepted.
The unions achieved a number of successes out of this confrontation but failed to prevent Irish Ferries achieving their objective of re-flagging the fleet, which means the ships will fly under a flag other than the Irish one and be subject to the employment laws and standards of another country. The unions claim that while they have not prevented re-flagging, they have been able to put in place a legal framework to guarantee some rights.
SIPTU's Vice President Brendan Hayes, who headed up the negotiating team, was positive about the result.
"The union has been successful in ensuring that the threshold of decency has been defended and that vulnerable migrant maritime workers have the protection of Irish law," said Hayes.
"One of our key objectives was the payment of the Irish minimum wage and this has now been achieved. SIPTU has secured substantial increases in the rates of pay originally proposed by management, which will bring wages up to and above the Irish national minimum wage.
"The protection of the terms and conditions of employment of Irish Ferries staff who wish to remain working for Irish Ferries has been secured," he continued.
"Crewing ratios will now be substantially higher that those originally proposed and will guarantee reasonable periods of rest. The terms and conditions for both officers and ratings will far exceed those originally proposed. A framework agreement which will legally protect all employees — irrespecorkers in both unions planned to take the redundancy package."
But Cowzer admitted he was disappointed with the deal.
"I am disappointed we've lost the Irish flag, bitterly disappointed about that," he acknowledged. "I am also disappointed at the coming in of an outside contractor and that we are only allowed retain 48 workers on their current pay and conditions, only eight of whom will be SUI members. That said, the deal for the new workers is still substantially better than they would have got had the unions not stood up for them."
Deal for new workers
While Cowzer is right that new workers to be hired by Irish Ferries' contractor Dobson's will have better pay, terms and conditions than expected, there are setbacks as well. The new workers will be entitled to the minimum wage and better, but it will be substantially less than current employees are entitled to, including those who decide to stay on with the company.
And while the unions have negotiated frameworks to protect their rights, their entitlements will be less than current employees. The company currently has a staffing ratio of 2.7, meaning 2.7 workers are needed to fully cover every individual post. Irish Ferries wanted to reduce this to a ratio of 1, and while the new agreed ratio of 1.5 is an increase on that, it is hardly a massive one.
New workers will face longer hours and more stress, dangerous things for men and women working at sea to be facing. Obviously the unions are hoping to aggressively go after these new employees in unionising them, and have got a commitment from Irish Ferries that they will not oppose any unionisation drive, but whether the contract agency they have hired, Dobson's, will be as facilitating remains to be seen.
Jack O'Connor, SIPTU President, said: "Only by standing together where people demonstrate their resolve, their courage can we achieve things in the Trade Union Movement and it's only by standing together in solidarity with each other that we will be able to defend each other from the onslaught that is under way."
Workers stood together and a 100,000 took to the streets. The first major battle in the coming onslaught is a partial victory for unions, but also a partial defeat. The real question is whether this conflict at Irish Ferries leaves us with a Trade Union Movement that has finally awoken to the threat Irish workers face, and if it plans to make a fight of it, or if, satisfied with a half-victory, it retreats again into Social Partnership