15 December 2005 Edition
Keepers of the flame
BY Mícheál MacDonncha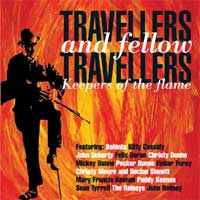 A Living Music - Travellers and Irish Traditional Music
Irish traditional music is heard, respected and enjoyed today on electronic media and in live performance all over the world but it was once the object of snobbery and derision in this country. At its lowest ebb it was referred to as 'tinker music' because for a long period the only visible performers of the music in many parts of the country were Travellers. For Travellers the jibe is not an insult now but a tribute because our music may well have perished but for the Travelling people who kept it alive.
Despite the Gaelic revival, Irish traditional music was marginalised for much of the early and middle part of the 20th Century. Conradh na Gaeilge held feiseanna and concerts which provided platforms for musicians and singers. But when the recording of music began, very little traditional music was recorded in Ireland. Most recordings were done in the United States and records of the likes of emigrant Sligo fiddler Michael Coleman were sent from America and had a huge influence. But it was Traveller musicians who kept the flame alive at home in Ireland. They carried tunes and styles around the country, linking the isolated pockets of tradition from the hills and glens of Donegal to the little towns of County Clare and the slopes of Sliabh Luachra.
One such Traveller musician who has attained the status of legend was Johnny Doran. Born in Rathnew, County Wicklow, he was a great-grandson of the 19th Century uilleann piper John Cash. Taking up the pipes himself, Johnny Doran travelled the length and breadth of Ireland in the 1930s and '40s and earned his living playing at fairs, football and hurling matches and race meetings. There was a wild spirit in Doran's playing, matched with astonishing skill. It earned him and his family a good living, relative to the poverty in which most Travelling families lived. One of Doran's last public performances was at a Clann na Poblachta rally at the request of Seán MacBride. Shortly after that, around New Year 1948, the Doran family's caravan was parked near Christ Church in Dublin when a high wall fell on it. Johnny was badly injured and died two years later.
In his Companion to Irish Traditional Music Fintan Vallely describes Johnny Doran's influence as "inestimable". One young man who saw Johnny play at the races was Willie Clancy (1918-'73) of Milltown Malbay, County Clare. He immediately wanted to take up the pipes and went on to become one of the best known and loved of traditional musicians, bridging the era of Cash and Doran with the revival of the music in the '60s and '70s.
Johnny Doran's younger brother Felix was also a piper, different in style but very skilled. He built a successful business in England and had a set of solid silver pipes made for himself. The legacy of the Dorans has been carried on by younger pipers from a Traveller background, including their relative John Rooney of Crossmaglen, Mickey Dunne of Limerick and Paddy Keenan of Bothy Band fame.
Lucky indeed were the Travellers who could earn their living from music. Others were not so fortunate, and one such was John Reilly (1926-'69). He travelled the roads of Leitrim, Sligo and Roscommon and came to maturity when his tinsmith trade was no longer required, condemning him to a life of poverty and ill-health. He had a vast store of songs, only a small sample of which were recorded. Even during the revival in the '60s, unaccompanied singers were often not appreciated and an 'expert' said of John, during his one brief visit to Dublin: "We don't go in for unaccompanied songs, we're more interested in folk singers."
John Reilly had a big influence on Christy Moore who recorded a number of his songs, including The Raggle Taggle Gypsy, The Well Below the Valley and Lord Baker. But by then John was dead, having contracted pneumonia in the run-down dwelling where he lived alone in Boyle, County Roscommon. Very few appreciated him at the time but his memory is now secure, much credit for which is due to Christy Moore and to Tom Munnelly who recorded him.
John Reilly's songs were learned at the campfire and his style was for singing in such intimate surroundings. On the other hand Margaret Barry (1917-'89) was the most famous exponent of the street-singing style. With her banjo she travelled the country and lived on to win some fame in the television age. Her full-blooded and full-throated style is continued today by such as Mary Frances Keenan of Ennis, a young singer with a beautiful voice.
The Dohertys were travelling tinsmiths in County Donegal and they combined the skills of their trade with fiddle-playing. When timber fiddles were scarce they made them out of tin. Their most famous son was John Doherty (1903-'80). His style has influenced generations ofBohinta.
Many of these musicians took part in the concert last Friday. It was a brilliant night with Traveller musicians and singers, young and old, celebrating the thriving tradition which their people have helped to keep alive.
• The CD Travellers and Fellow Travellers — Keepers of the Flame (PP CD 002) is published by Pavee Point Travellers Centre, 46 Great Charles Street, Dublin 1. email: [email protected]; internet: www.paveepoint.ie