15 December 2005 Edition
Huge effort to sabotage CPI and smear Connolly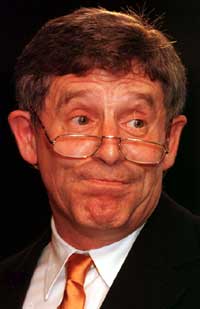 BY MÁIRTÍN Mac EOIN
McDowell's admission that he leaked the Garda documents to the Irish Independent to smear Frank Connolly show McDowell breaching all rules of due process. His comments in the Dáil accusing Connolly of obtaining a false passport to travel to Colombia mark an abandonment of the rule of law which is supposed to be the governing principle of the establishment parties.
But why has Connolly brought this ire down upon him? Frank Connolly is a highly-respected investigative journalist whose work was very instrumental in bringing about the tribunals of inquiry that exposed the levels of political corruption in this country in planning and other matters. Indeed, it is doubtful whether the infamous Ray Burke, found guilty of corruption, would ever have been convicted without Connolly's work.
But Connolly came to the conclusion that the tribunals were confined by their terms of reference to the very minimum of what needed to be investigated. In Ray Burke's case, for example, there were questions concerning his involvement in giving the Shell consortium ownership of the Corrib gas field, as he had been convicted of taking money corruptly in other areas where he had decision-making power. But the Government refused to open up the tribunals to look at these questions.
In moving out from planning to other decisions Connolly was threatening to expose the deep links between the top echelons of Irish political life and the seamier side of international business.
That perhaps didn't matter that much, until Connolly persuaded the Irish-American Chuck Feeney to fund his Centre and managed to bring on board the judge who had investigated the planning scandals, Mr Feargus Flood.
The Irish Independent and Sunday Independent went berserk, with 'Sir' Anthony O'Reilly's entire stable leaving no stone unturned in an effort to sabotage the Centre. They were left apoplectic when Connolly's centre pre-empted the government report into the Corrib gas project and showed that the people of Ros Dumhach are indeed in grave danger from the project as the five jailed campaigners argued. Revenge was not long in coming, when Sam Smyth gallantly entered the fray on behalf of the rich and powerful, or more importantly on behalf of his friend and paymaster, Tony O'Reilly, who even pays the airfares (first class) for his tame hack's holidays in South Africa. I wonder does Sam pay tax on that!
If there is evidence of any wrong doing on the part of Frank Connolly he should be charged and the evidence tested in the courts. The DPP refused to entertain that idea because there was no evidence, so Michael McDowell has changed the rules to suit himself.
In other countries in Western Europe McDowell would have been forced to resign by now, and it's a measure of our 'democracy' that he's still in office.