15 December 2005 Edition
Interview - Former republican POW Joe McKenny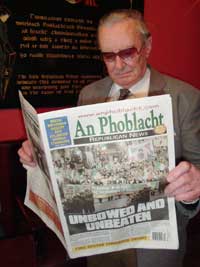 "I don't regret one minute" — Joe McKenny
Jim Gibney recently interviewed former republican prisoner Joe McKenny. Here he tells the extraordinary story of a man who spent eleven years in English jails before his transfer to Portlaoise Prison in the Irish midlands as a result of the Peace Process and who was over 7O years of age when he was finally released. Joe McKenny's story gives an intriguing insight into life for northern nationalists from the 1930s and to the early days of the resurgent IRA in the early 1970s
Two weeks before his 70th birthday Joe McKenny heard the slam of a cell door in an English prison for the last time in his life. Shortly after this he heard the clang of cell keys again but this time they dangled from the belt of a prison warder in an Irish prison, Portlaoise.
At the start of his seventh decade Joe McKenny left an English prison in December 1996 to complete what was left of a prison sentence on Irish soil. Joe was among a group of republican prisoners in jail in England transferred to Ireland as a result of the Peace Process. He had almost finished a 16-year sentence imposed on him in August 1987. Handcuffed, surrounded by armed police in a cavalcade with alarms blaring, he was escorted to an Aer Lingus plane. His first taste of temporary freedom with a gentle touch came in the form of a Bushmills' whiskey given to him discretely by the plane's air hostess.
Joe was 59-years-old when he was sentenced. He served eleven of the 16 years in different English prisons. He was released from Portlaoise in January 1997.
While in jail in England he met John McComb from Belfast's Short Strand for the second time. John was also serving a 16 year sentence. He first met John in the Cages of Long Kesh in August 1972. They formed a friendship which has lasted to this day. John introduced me to Joe.
I was keen to find out from him how a man of his years, when most people are well settled into sedate middle-aged life, coped with a sentence which was potentially life threatening, given the vagaries of health provision inside an English jail.
Throughout the interview Joe was self-effacing and regularly said he saw no reason why I was interested in his story. That he did nothing out of the ordinary. To Joe he was 'only' one of hundreds of republicans who spent time in jail. He is right about that but Joe's story is different because of his age and his active participation in the IRA at a time when the Army was replete with Volunteers half his age.
His family history is also interesting because it provides a glimpse into times that are long since gone and don't usually make it into the formal history books.
Joe was born in Dromara, County Down in 1927. His family were political. Both parents, Mary and James were in the local IRA before they were married. That is where their romance first blossomed. After partition Joe's family, on both sides. supported the Free State. His father was one of the first northerners to join An Garda Siochána. He left after the Civil War having played no part in it and returned to run his family's small farm in 1923 in Dromara and to marry Joe's mother.
When Joe was growing up his parents didn't speak about their time in the IRA nor of the Civil War or being in the Garda. But their politics were about the house. It was in their books which Joe eagerly read.
To the north of the family farm was land owned exclusively by Protestants and to the south land owned by Catholics. Joe's friends and neighbours were Protestants. He recalled them being friendly. However, at night he often met them on the small country roads around home carrying .303 rifles and dressed in the uniform of the 'B' Specials. Even though they were his next door neighbours they stopped him and enquired about his movements. He resented this but was often cautioned by his elders to accept things as they were. Joe now realises that this cautious outlook was shaped by the impact of the years from 1916 until the end of the Civil War in 1923, especially in the Six Counties.
It particularly reflected a northern nationalist view which was deeply affected by the unrestrained violence of the unionist state's forces inflicted on nationalists when the state was being set up.
The new state's rulers instilled fear in those they repressed and maintained that fear through their armed forces, legal and illegal. Joe's neighbours who donned the 'B' man's uniform and patrolled with .303 rifles over their shoulders were handsomely rewarded. They received five shillings a week, a lot of money then and even more when money was scarce.
Joe recalled another experience which summed up life for Catholics in the Six Counties. A local Protestant man, a road sweeper, got a job in the shipyard. A Catholic man from Finis got his job as the road sweeper. This caused shock among locals. It was unheard of for a Catholic to be employed by a unionist controlled council.
Local nationalists were self-sufficient. They had to rely on their own enterprise. Many of them were pub owners, bookies and small farmers.
Joe recalled a story which is humourous, serious and representative of the times. Protestant parents threatened their children, reluctant to come in off the street for bed with, 'come in or the wee popes will get you' at which they scurried home. This was the rural Six Counties in the late '30s.
During the Second World War the area around Joe's home was an encampment for British and American soldiers. Castlewellan was over run by British soldiers recuperating from Dunkirk. When the American soldiers arrived they brought their war paraphernalia. They were billeted in local people's homes and it was not unusual to see tank formations across Dromara's drumlins. The Americans got on well with local people, particularly farmers. They had no difficulty instantly paying out compensation when their military manouvres damaged farmland or hedgerows.
There was a latent sympathy for the Germans or more precisely an anti-British sentiment. Joe and many of his neighbours listened to Lord Haw Haw's propaganda broadcasts from Germany. No one around Dromara knew anything about the fate of the Jews or the extermination camps. But they knew all about British violence, occupation and the impact of partition on them. They filtered their world view through this experience. It was a case of having a sneaking regard for 'my enemy's enemy'.
Joe was vaguely aware of the IRA's campaign in England during World War Two but he was more interested in going to céilí dances or listening to session music in a local house, playing Gaelic games or boxing.
Céilí houses as they were called were very important venues for social occasions. These houses and the gatherings in them kept people's Irish identity alive at a time when the unionist state was using its formidable resources to suppress it.
Joe joined the IRA sometime in the mid 1950s. He was very much aware of the IRA's 1956-'62 campaign. His intention was to join the campaign but he fell ill for a few years and was not fit for it.
His interest in the IRA grew steadily throughout the '60s. He was aware of the political changes that were taking place inside the IRA after the end of the 1956-'62 campaign. He was more interested in what the IRA's military intentions were, given the attacks by the RUC, the 'B' Specials and the loyalists on the Civil Rights protestors.
There was a good deal of support for the IRA around Castlewellan and the mid-Down area and it was among these people that Joe and his comrades moved in the lead up to the RUC's attack on the Bogside.
The events of '68, '69 and '70 across the Six Counties propelled Joe and his comrades into a frenetic life of clandestine and subversive activity. He spent less time on his family farm and more time as an active republican.
Joe was particularly affected by the burning of Bombay Street. He drove to the street from his home arriving there at 5am, the morning after the attack. The scene was one of devastation. Not a sinner in sight. As quiet as a grave with smoke rising from the burnt out shells of houses. Joe heard gunfire close by and a woman's voice screaming: "Jack Lynch is on his way. He's been on the radio. He's on his way." He noticed a group of confused and scared people clapping a lorry with a Southern registration, thinking it was the help arriving.
Seán Mac Stíofáin, Chief of Staff of the re-organised IRA was in Joe's area several times. He was regularly in 'Mc Stick's' company as he called him. He found him a pleasant, hard working man. He urged Joe to organise the IRA in as many areas as he could. He wanted a network of IRA active service units in hamlets, villages and towns across mid-Down. He also wanted them active as soon as they were armed. Their targets: the crown forces.
Modern weapons were not readily available. Joe's unit had access to four First World War Lee Enfields, a revolver and an automatic pistol. Re-organising the IRA was made a bit easier because of the pressure the crown forces were under in Belfast and Derry. The 'B' Specials disappeared from Castlewellan to Belfast allowing Joe and his comrades the freedom to travel the roads at night, organising IRA activity.
In those early years the situation was out of everyone's control and produced some lighthearted moments in hindsight. Joe recalled a man arriving from the US with the intention of joining the IRA in Castlewellan. He accidentally joined the UDR instead but quickly left when his patrol came under fire from the local IRA. He later joined the IRA and ended up in Long Kesh.
Joe also recalled two occasions when he was arrested by armed IRA Volunteers on suspicion of being an undercover agent. The first time was in early 1970 when he was arrested in the Short Strand and the second occasion was later that year in Andersonstown. He managed to convince his captors of his credentials.
Internment in August 1971 did not significantly impact on the IRA in mid-Down but Operation Motorman a year later did. In that year three IRA Volunteers, Peter McNulty, James Carlin and Martin Curran, lost their lives.
In those years many IRA Volunteers lost their lives in premature explosions. This led to a situation where a limited number of people showed an interest in engineering. Joe was comfortable around explosives. He had a technical mind and appreciated their value, properly handled. Over the years he developed an expertise in this area. This proved to be very useful to the IRA.
Joe spent three years in Long Kesh between 1972-'75, convicted of possessing firearms. He was 50 when released. He moved to Dublin and was again active with the IRA.
While travelling through the North he was arrested by the RUC outside Newry in May 1986. He was flown to Paddington Green police station in England. While there the police offered him a deal to reveal the IRA's supply lines into Britain. Joe dismissed the offer and was charged with providing materials to the IRA to bomb seaside resorts in Britain.
The evidence against him was based on a hand-written instruction on a timing device. It read: "14 days, 1hr, 20 mins." The prosecution alleged the handwriting was the same as that found in a notebook belonging to Joe.
Before sentencing Joe, he precisely remembered "in May 1986 at 5pm" the judge described him as "extremely dangerous and dedicated". He gave him 16 years.
"Some you win, some you lose" was Joe's attitude to the sentence. "I was determined to come out alive. If you don't have that attitude you go under. You either lie down or do something about it. I did something about it. I'm dammed if I'd let them beat me", he said.
Joe continued: "I did my time one day at a time. It wasn't a complete waste. I met some great people in there. I don't regret one minute of what I have done with my life. I'd do it all again. Only I'd like to think I'd be more productive, more effective.
"Life is good. I've enjoyed the last eight years of freedom. I've been around Europe and the US.
"I might not see a united Ireland in my life time but I'm glad I tried to bring it about.
"I support the Peace Process. It is undoubtedly the way ahead. Now is the time for politics."