8 December 2005 Edition
Justice quest for victims of British violence goes to Brussels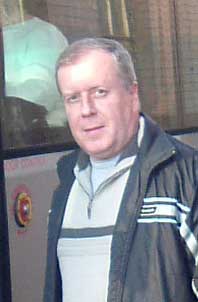 Human rights' groups and family members of people killed by British forces and unionist death squads in the Six Counties took their quest for justice to the European Parliament in Brussels this week.
The two-day visit, on Tuesday 6 and Wednesday 7 December, was hosted by Sinn Féin MEPs Mary Lou McDonald and Bairbre de Brún, who organised a series of meetings with human rights' groups and other non-governmental bodies.
Among the groups represented were An Fhirinne, Relatives for Justice, The United Campaign against Plastic Bullets as well John and Séamus Finucane, the son and brother of assassinated human rights lawyer Pat Finucane.
During the trip the delegation met MEPs and discussed how European law could be used to further the campaign for truth about collusion and state killings.
They raised awareness among European parliamentarians of Britain's policy of collusion including the latest collusion scandal of the Castlereagh files.
Speaking to An Phoblacht An Fhirinne's Robert McClenaghan said that what unites all the families is a burning desire to find out the truth about why their relatives were singled out for murder by the British State. "They are optimistic that European authorities will be able to help them in their quest for the truth.
"Their quest for truth has so far taken them to the Assembly, London, Leinster House and now Brussels.
"In our meetings we argued for an international, independent, judicial inquiry into the policy of collusion and state killings to be organised under the auspices of the European Parliament or the United Nations. We said that inquiry should have the power to subpoena senior members of the NIO, PSNI/RUC, British Army, British securocrats and the British Government to appear or face prosecution for contempt.
"We also pointed out that the European Court has found the British Government guilty of human rights violations against its own citizens more times than any other member state."
McClenaghan concluded said the delegation hoped to secure the promise of a European fact-finding mission to Ireland that could explore the issue of collusion and state violence against the nationalist community.