8 December 2005 Edition
News in Brief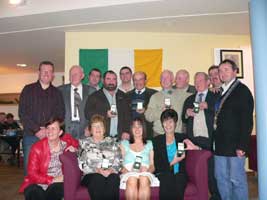 South Armagh Céad Bliain celebrations
A Céad Bliain celebration which took place in the Tí Chulainn Centre, Mullaghbawn last weekend was in many ways and emotional night with mixed memories for those in attendance.
The huge numbers who gathered to take part were there to see ten recipients from throughout the South Armagh area receive special Céad Bliain presentations in recognition for their commitment to the republicanism.
The awards ceremony took place after Sinn Féin Newry/Armagh MP Conor Murphy opened an exhibition which charted the 100-year history of Sinn Féin in the area. The exhibition was put together by members from the ten Sinn Féin Cumainn in South Armagh. The Sinn Féin MP stated that he hoped as many as possible would get the opportunity to view the material as it contained very significant historical information and would help all to understand the importance the struggle for Irish Freedom is to the South Armagh community.
Murphy said the night was also tinged with sadness as they remembered those who had paid the supreme sacrifice in the struggle for a united Ireland, an Ireland of Equals.
He congratulated all involved in organising the hugely successful night. Ten activists, one from each Cumann in South Armagh were then presented with special Céad Bliain medals in recognition of their contribution to Sinn Féin. The recipients had been nominated by their respective cumann. Each recipient received a standing ovation from the packed house after receiving their awards from Conor Murphy MP, Caitríona Ruane MLA and Councillor Pat McGinn, Mayor of Newry and Mourne.
The recipients were Peter John Carragher (Cullyhanna), Owen Carragher (Crossmaglen), Margaret Fearon (Jonesborough), Michael McCreesh (Dromintee), Peter Paul O'Hanlon (Killeen), Terry O'Hare (Camloch), John Murphy (Forkhill), and Séamus Quinn (Belleek). Two posthumous recipients were the late Brian Heaney (Silverbridge) and the late Paddy Tennyson (Mullaghbawn), and their awards were accepted by family members.
South Down MLA Caitríona Ruane said the event had been a marvellous occasion and there was a great sense of pride amongst all in relation to the growth of Sinn Féin.
Councillor McGinn said it was a great honour for him and the many local elected representatives in attendance to stand alongside people who had led by example and given many years of service to the Republican Movement. The exhibition is showing in the Tí Chulainn Centre, Mullaghbawn for a limited period.
Céad Bliain talk at National Museum in Mayo
• Sinn Féin Councillor Noel Campbell marked the centenary of Sinn Féin by delivering a talk entitled We Ourselves — 100 years of Sinn Féin in the National Museum of Ireland, Turlough, Castlebar on Wednesday 30 November
Weeping Rose ceremony to mark 16 Days of Action
111 white roses were cast into the Boyne River in Navan last Thursday 1 December, to remember the 111 women killed in the 26 Counties as a result of domestic violence since 1996.
The 'Weeping Rose' ceremony was just one of the actions taken by local communities throughout the state as part of Women Aid's 16 Days of Action to highlight domestic violence. One hundred and eleven white balloons were also released to represent the murdered women
Navan Sinn Féin Councillor Joe Reilly said the event had been a huge success with over 150 people attending. The Weeping Rose ceremony was organised by the Navan Community Development Group and speakers included representatives from Women's Aid and a local women's refuge.
Afghan protest at Dáil
Around 50 asylum seekers from Afghanistan came from the West of Ireland on Monday 5 December to Leinster House to present their asylum claims to TDs.
The asylum seekers are all young men who have escaped fearful dangers at home but 99% of their claims have so far been rejected. The demonstrators spoke of the endemic violence and dangers in their war-torn country. The protest was organised by Residents Against Racism.
Martin Savage remembered
• Sinn Féin Chairperson Mary Lou McDonald MEP, Alex Maskey MLA and Fingal County Councillor Felix Gallagher, pictured with members of Martin Savage's family at the commemoration stone to the IRA Volunteer beside the Halfway House pub in West Dublin. The annual Martin Savage commemoration took place last Saturday 3 December and was well attended by local republicans