8 December 2005 Edition
Anger at Harney's broken promises in Kilkenny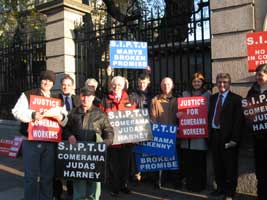 Former employees of the Comerama textile factory in Castlecomer, County Kilkenny held a protest at Leinster House last Tuesday, supported by Sinn Féin's Carlow-Kilkenny representative Kathleen Funchion and party TDs Arthur Morgan and Aengus Ó Snodaigh.
"It is now three years since Mary Harney, then Minister for Enterprise, Trade and Employment, promised these workers as the factory was closing down that any legislation on increased redundancy payments would be applied to them," Kathleen told An Phoblacht. "This promise affected how SIPTU dealt with the redundancy package and the winding down process at the factory."
Despite making her commitment in front of trade union officials and TDs, senators and councillors, the Minister now denies making such a commitment, claiming she only promised to 'do her best'.
"The Minister is being completely dishonest in her statements on this case," said Kathleen. "As a result of her two-faced approach to this issue 160 vulnerable workers lost just under a million Euros in unpaid redundancy payments. Sinn Féin's presence here today is to show both our solidarity to these workers and our commitment to see their campaign for justice is a successful one."