8 December 2005 Edition
McDowell pleads immunity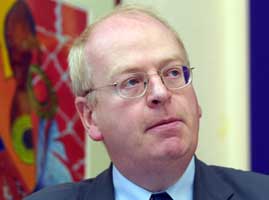 Michael McDowell is claiming "sovereign immunity" in his defence in a libel action taken against him by the national newspaper Daily Ireland.
Publishers took the 26-County Justice Minister to the High Court last week over claims he made last January, when he likened the paper to a "Nazi propaganda sheet".
Daily Ireland's Managing Director Mairtín O Muilleoir, is suing for libel over McDowell's claims, made a month before the paper was launched.
However, McDowell's barrister told the Belfast High Court that the action should not be allowed to proceed because the Minister has state immunity. Daily Ireland's lawyer argued that the comments by McDowell had raised the risk of assassination for staff and accused the Minister of hiding behind the state immunity cloak.
Mairtín Ó Muilleoir said the Minister had tried to "bully the readers, workers and investors of Daily Ireland" and the reason for taking the legal action was to force him to "put up or shut up".
Judgment at the High Court in Belfast was reserved.