8 December 2005 Edition
OTR row - No amnesty agreed for British killers - Ahern had no notice of British move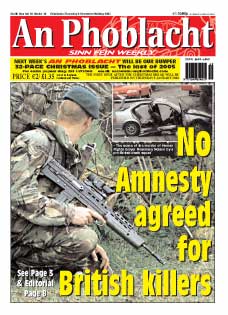 Speaking after a meeting with Taoiseach Bertie Ahern last Thursday, Sinn Féin President Gerry Adams said Ahern had told him he had no advance notice of the British putting an amnesty for security forces into OTR legislation.
Adams said it had been agreed at talks in Weston Park in 2001 that the "on-the-runs" issue would be dealt with, but there was no agreement on an amnesty for British forces.
He called on the government to urge the British to remove that element from the legislation. "It is in breach of the joint communique at Weston Park and it is certainly in breach of any understanding we had with the two governments."
Adams rejected the suggestion that supporting an effective amnesty for IRA members but not for British security forces was a double standard.
He said some of the people who may avail of the legislation "have never been before due process and some of them may be innocent. The fact is that hundreds of people have been killed by the British crown forces and there is an attempt just to further cover up on this issue, and I think people understand that.
Martin McGuinness said: It's quite clear what is going on here. The Taoiseach has explained to everyone that this is a big surprise to him."