1 December 2005 Edition
Sinn Féin meets Ahern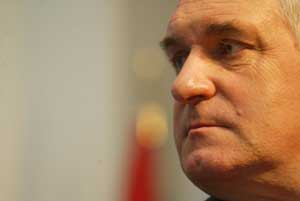 Gerry Adams leads a Sinn Féin delegation to meet Taoiseach Bertie Ahern in Dublin on Thursday 1 December. The delegation includes Martin McGuinness MP, Caoimhghín Ó Caoláin TD, Mary Lou McDonald MEP and Caitríona Ruane MLA.
Among items to be discussed are efforts to restore the political institutions in the Six Counties and the Taoiseach's proposals for northern representation in the Oireachtas.
Sinn Féin will also raise the blatantly political policing which resulted in the detention of MLA Francie Brolly and the ongoing controversy regarding the fact that details of hundreds of republicans and nationalists were stolen from Castlereagh PSNI base and handed to one of the unionist paramilitary groups.
Gerry Adams also intends to raise the issue of Irish Ferries.