1 December 2005 Edition
Adams launches year-long recruitment campaign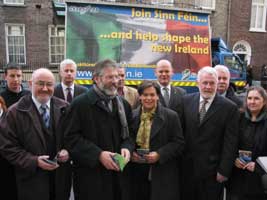 Sinn Féin President Gerry Adams has launched a major recruitment drive for the party on the 100th anniversary of its foundation.
Speaking in Dublin on Tuesday 29 November Adams said that for the past year Sinn Féin had been celebrating and commemorating its 100th anniversary but that the party hadn't just been looking to the past but was also planning for the future. "Only last weekend we held a major all-Ireland conference in County Monaghan to discuss strategies for achieving Irish unity," he said.
Speaking at the unveiling of a large billboard advertising party membership Adams continued: "The rapid growth of Sinn Féin, especially in the 26 Counties is testament to our leading role in the Peace Process, our work for Irish unity and our agenda for change. People are joining Sinn Féin because we are a real alternative to the sham politics that passes for political discourse in Leinster House. There is little or no difference between Fianna Fáil, the Progressive Democrats, Fine Gael or the Labour Party. Instead of discussing the inequality at the heart of government policy, the only thing that these parties are interested in discussing are minor changes to the management of the economy.
"Sinn Féin has no interest in the rhetoric of republicanism or equality. Our task is to make republicanism relevant to the people of Ireland and to bring about a national republic on this island. Our task is to build a country where all are treated equally regardless of income, gender, ethnicity or geography.
"Today Sinn Féin is embarking on a year-long recruitment drive. In the course of that year we will be holding events across all 32 Counties, involving the entire leadership of the party. We will be visiting colleges and universities North and South. And we will be specifically looking to women and the various ethnic groups, to help shape a new Ireland based on equality and justice by joining our party."