24 November 2005 Edition
Lansdowne fire and the Croker plot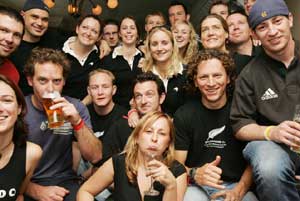 When the North Stand at Lansdowne Road burnt down before the All Blacks/Ireland exhibition match, a rumour began circulating that it was all part of a plot to ensure that the GAA would be brow beaten into opening up Croke Park to the IRFU for one of their Six Nations fixtures after Christmas.
Tempted though I was to get down there and see if I could follow a trail from the back of the stand to the Freemasons HQ on Molesworth Street, or to a secret conclave of the Illuminati of Bavaria (they meet in the Dawson Lounge of a Tuesday evening), I decided that my time was best spent sleeping off a hangover and having erotic dreams. (About the 1983 All-Ireland Final if you must know).
My suspicions were heightened, however, when I heard Marian Finucane on about it. It's always a bad sign when Marian starts talking about something, especially something that she knows nothing about. She was interviewing some chap from the FAI (taking time off from wondering where the officials will be spending their holidays next Summer) and wanted to know if he'd been on the blower to Seán Kelly demanding that Croke Park be opened up. As a magnanimous gesture of course.
She later put the same question to someone from the IRFU but he diplomatically batted it off. Not practicable at such short notice for one thing. I'd say another thing was that the rugger chaps would have been just as happy if the whole place had burnt down and there'd been a nationwide power cut that would have saved them from the ignominy of having the whole country watching them getting battered by New Zealand.
Those who dismissed the grassy knoll chaps following the fire may have paused for thought on Wednesday when it was announced that the senior officers of the GAA, IRFU and FAI had met. What were they discussing? Maybe Seán Kelly was looking to swap some premier seats in the Hogan for tickets for the FAI Cup Final? Or perhaps the IRFU were looking to borrow Armagh to play Australia?
No. What they were discussing were the logistics of hosting future rugby and soccer internationals at Croke Park in line with the mandate given to the Central Council by this year's Congress allowing for " events other than those controlled by the Association during a period when Lansdowne Road Football Grounds are closed for the proposed redevelopment".
Of course when delegates, wrongly in my opinion, passed that last April, they were envisaging a situation whereby Lansdowne was closed, having secured planning permission. The indications were that such permission was not likely in the near future. Now, the spin is that maybe getting the North Stand refurbished falls under the rubric of "redevelopment". If so, then Central Council might give the IRFU permission to hold at least one of its Six Nations matches there. All very convenient.
If the unthinkable does come about, there may be resistance. I have it on good authority that twice 5,000 hurling men will muster to the call. Not Ireland's Call obviously. Led by national priests and their courage summoned by national verse, they will prevent the desecration, not to mention ploughing up, of the sacred sod. Personally, I think the trip across the Liffey will be so confusing for the rugger chaps that the place will be three quarters empty.
On the playing fields of Eblana, a number of clubs progressed to their respective provincial finals. St Galls of Belfast once again defied the odds over Mayobridge. They will play Bellaghy in the final. Ballygunner of Waterford and Newtownshandrum of Cork will meet in the Munster hurling decider.
The Connacht hurling and football titles were won by two Galway teams; Portumna and Salthill-Knocknacarra. In Leinster, James Stephens easily overcame Castletown of Laois and Babs Keating's UCD Allstars defeated a plucky Oulart-the-Ballagh side. Sarsfields of Newbridge became the first team to qualify for the Leinster Football Final.
The Kildare team will face either Kilmacud Crokes or Rhode who drew at Portlaoise. The Dublin team appeared to be coasting at half time when leading by seven points but were pinned back and finally caught by a late equaliser after three minutes of injury time.
Rhode displayed the fighting spirit and tenacity associated with old stalwart Paddy McCormack who won two All-Irelands with Offaly in 1971 and 1972. Paddy was known as the Iron Man from Rhode and it was a title well earned apparently. A chap I know played against him in the late '60s. When the first ball came in all he could remember afterwards was picking himself up in a daze. The same happened on each occasion until near the end when Offaly were comfortably ahead. A ball was launched in towards the square and your man prepared to muster himself for one last face saving effort. McCormack tipped him on the shoulder and said: "You get that one young fella."
An Phoblacht Magazine
AN PHOBLACHT MAGAZINE:
Don't miss your chance to get the second edition of the 2019 magazine, published to coincide with Easter Week
This special edition which focuses on Irish Unity, features articles by Pearse Doherty, Dr Thomas Paul and Martina Anderson.
Pearse sets out the argument for an United Ireland Economy whilst Pat Sheehan makes the case for a universally free all-island health service.
Other articles include, 'Ceist teanga in Éirinn Aontaithe', 'Getting to a new Ireland' and 'Ireland 1918-22: The people's revolution'.