24 November 2005 Edition
Fifth Column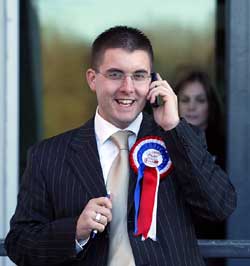 Michael in the Middle
• McDowell or Dewey the youngest one in Malcolm in the Middle?
The PDs' snarling Rottweiler, Justice Minister Michael McDowell, is going on a charm offensive to make himself look all cuddly ahead of an impending general election.
Michael continues to overshadow the PDs' token leader, Mary Harney, with an appearance on Tubridy Tonight in which he tried to explain where he came on the McDowell family tree.
"I was like the youngest one in Malcolm in the Middle." The youngest character in the dim-witted, dysfunctional TV family in Malcolm in the Middle is Dewey, a seriously disturbed child with imaginary friends.
FF paper Pole-axed
Fianna Fáil leaders head the biggest party in Ireland but can't get its activists to deliver its dreary newspaper, The Nation, door to door. Some bright spark in Mount Street thought that one way to shift the waste paper mountain would be to have it distributed in Dublin with the Evening Herald.
Pity that Fianna Fáil's message to Irish voters was stapled miles inside the weighty tabloid, right in the middle of the Herald's supplement for Polish speakers.
Just the job
Rhonda Paisley is suing her Big Daddy, Ian Paisley, for sexual discrimination over a job application with the DUP.
Rhonda is claiming that she didn't get the gig in the DUP's policy unit last year because she's a woman. The post went to Craigavon DUP Councillor Philip Weir.
Among those named as respondents in Rhonda Paisley's case, listed with the Office of Industrial Tribunals, are DUP CEO and Lisburn Councillor Alan Ewart, Peter Robinson, Iris Robinson, Nigel Dodds, Jeffrey Donaldson, Gregory Campbell, Sammy Wilson, Willie McCrea, William Hay, Maurice Morrow, David Hilditch, Edwin Poots, MEP Jim Allister, the out-of-favour Paul Berry, Big Daddy and her little brother Ian Junior.
Rhonda is living at home with Big Daddy -- at least she was when the case was made public last week.
Suspended action
Over in the Belfast High Court, suspended DUP MLA Paul Berry has successfully applied for an adjournment of the planned disciplinary proceedings to be taken against him by the DUP.
The Newry and Armagh man is facing possible action by the DUP from which he has been suspended following reports in a Sunday newspaper that he met a male masseur in a Belfast hotel. The masseur has claimed that a sex act took place, something which Berry has strenuously denied.
Now the Belfast High Court has ordered that the DUP is restrained from continuing with any action until it complies with its own rules and those of natural justice.
Hurricane blow
Ballymena DUP Councillor Maurice Mills has declared that Hurricane Katrina was an act of God against homosexuals. He also branded homosexuality a "filthy practice" responsible for the devastating scourge of Aids across Africa.
Now the Rainbow Project, the gay rights organisation, has challenged the DUP to give an unqualified response to their councillor's comments.
News Letter's bear-faced lie
The unionist daily News Letter laced into the Parades Commission last Thursday in a full-blooded, front-page assault that castigated their bete noir for refusing permission to a sponsored walk in aid of 'Pudsey' and Children in Need, 24 hours before the massive charity event.
The News Letter fumed that the Parades Commission had put the skids under the Children in Need Bog-Eyed Jog led by Wendy Austin around BBC Broadcasting House in Belfast "as the Commission claims it wasn't legally notified about it".
And to add insult to Pudsey's injury the News Letter complained that a sponsored walk by Young Unionists in East Belfast had been blocked "because they failed to fill in the controversial 11/1 form".
Unionist MLAs like Michael Copeland were "furious" that the charity stood to lose out because of "political correctness gone mad", according to the News Letter.
Copeland raged: "What next? Church parades? Will primary teachers wishing to walk their children to their local leisure centre be required to fill in an 11/1 form? This is bad news for everyone in Northern Ireland."
Er, not quite.
On Pudsey Day itself, as the one-eyed, bandaged bear paraded unmolested, the blinkered News Letter had to print a grovelling apology to the Parades Commission (on its front page but tucked away in the corner) accepting that the Commission "had no intention of banning or re-routing the BBC Bog-Eyed Jog", as trumpeted in the News Letter. "In fact, the issue was never presented to the Commission."
But there was some good to come from the News Letter's boo-boo over the bear — to show it was really sorry, the News Letter felt compelled to make a donation to Children in Need.
An Phoblacht Magazine
AN PHOBLACHT MAGAZINE:
Don't miss your chance to get the second edition of the 2019 magazine, published to coincide with Easter Week
This special edition which focuses on Irish Unity, features articles by Pearse Doherty, Dr Thomas Paul and Martina Anderson.
Pearse sets out the argument for an United Ireland Economy whilst Pat Sheehan makes the case for a universally free all-island health service.
Other articles include, 'Ceist teanga in Éirinn Aontaithe', 'Getting to a new Ireland' and 'Ireland 1918-22: The people's revolution'.