24 November 2005 Edition
McBrearty unleashes flood of injustice claims
BY ROISIN DE ROSA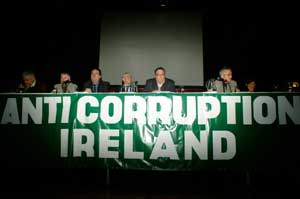 Garda corruption - Cases of cover-up and abuse emerge
A packed public meeting in Dublin last week saw people detail a litany of abuse and cover up by the Garda. The meeting in the Mansion House, organised by Frank McBrearty, saw several hundred people accept his open invitation to come and tell of their experiences.
The campaign fought by McBrearty and his father to expose Garda attempts to frame him for murder, and other events involving Donegal Gardaí, have unleashed a flood of injustice cases.
The platform included people who suffered injustices at the hands of the Gardaí: Osgar Bhreatnach, Nicky Kelly, and Frank McBrearty himself. They were supported by TDs, Seán Crowe of Sinn Féin, Dan Boyle of the Green Party and Labour's Joe Costello. Aisling Reidy from the ICCL, and journalists Frank Connolly and Eamon McCann also attended.
Seán Crowe spoke about the case of Councillor Eddie Fullerton, whose murder still remains unexplained despite widespread evidence of collusion on both sides of the border and the failure of Gardaí to carry out any proper investigation.
Osgur Bhreatnach said that nothing has changed since the time of the Garda Heavy Gang trampled over the legal rights of himself and others accused of the Sallins mail train robbery, brutalised them and framed them.
"It is not a case of a few rotten apples in the Garda barrel. It is not a case of removing the bad apples or even moving the barrel. It is the very barrel that is causing the rot."
All speakers insisted on the need for an independent ombudsman in the 26 Counties. Aisling Reidy said: "The government knows what needs to be done, but refuses to do it. We need the creation of an independent ombudsman, a separate institution, under a separate bill — not just a another chapter in the Garda Bill."
Frank Mc Brearty ended the meeting with the promise that in the New Year, after more such meetings had been held in other parts of the country, a group would be established to take the campaign for justice further.