17 November 2005 Edition
Fine Gael plan to downgrade Irish slammed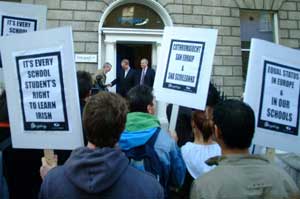 Fine Gael proposals to downgrade Irish from a required Leaving Certificate subject have been greeted with a barrage of criticism.
At last weekend's party conference Enda Kenny stated that "many are leaving school without any reasonable command of the language", and that it was in the national language's best interests that it's present status as a required Leaving Certificate subject be abolished.
According to the Fine Gael leader, the status of Irish as a required Leaving Certificate language "was actually driving many young people away from any real engagement", with the language.
Responding to this Dáithí Mac Cárthaigh, Uachtarán Chonradh na Gaeilge said that: "There have been problems in the teaching of mathematics in recent years. A new syllabus is being designed to combat this problem. Would this approach in the case of Irish not be a preferred solution?"
Continuing, Mac Cárthaigh said: "If students are forced to choose between Irish and other subjects required for their chosen careers, for example biology or chemistry in the case of medicine, the student will be left with no choice but to choose the other subject, thereby denying such students the choice of studying Irish. Indeed, many schools would discontinue teaching Irish for the leaving cert."
The Fine Gael proposal has drawn criticism from many quarters including Sinn Féin, IBEC, the Union of Secondary School Students, the Union of Student in Ireland, Professor David Little, Head of the School of Linguistic, Speech and Communication Sciences, TCD, Trinity College Students Union and Irish language organisations.
According to Ciarán Mac Fhearghusa, Cathaoirleach of Na Gaeil Óga these "comments are seen as particularly disappointing at a time when Gaeilge is recognised as an official language in Europe and attitudes towards Irish have never been more positive. The Irish language should not be used as a political football."
Na Gaeil Óga staged a protest outside the Fine Gael Headquarters last Wednesday to demonstrate the strength of opposition to Kenny's latest pre-election gimmick.