17 November 2005 Edition
The MacBride enigma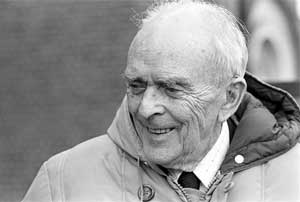 Books: Fascinating insider's account of turbulent times
Book review
That Day's Struggle:
A Memoir 1904-1951
By Seán MacBride
Edited by
Caitríona Lawlor
Published
by Currach Press
Seán MacBride had an amazing life. Son of executed 1916 leader Major John MacBride and Maud Gonne, reared in Paris, on IRA active service in the Tan War, in the Four Courts garrison in the Civil War, Chief of Staff in the '30s, barrister, founder of Clann na Poblachta, Minister for External Affairs and then an international career as a champion of human rights and peace, earning him both the Nobel and Lenin Peace Prizes.
This was a colourful journey by any standards yet this memoir is curiously monochrome. The pace and tone rarely change. Emotion is restrained. There is a reserve and a distance from people and events. At the same time, given the central role MacBride played, the book is fascinating as an insider's view of turbulent times.
Returning to Ireland in the wake of his father's execution in 1916, MacBride quickly joined the Irish Volunteers and was soon close to the leadership, going on arms-buying missions to the Continent. At the same time he was active with the IRA's Dublin Brigade and one of the rare moments where he shows emotion is when he describes the ambush in the Pearse Street area in which his comrade Leo Fitzgerald was killed.
MacBride dates his commitment to legal justice to this time. Obviously the execution of comrades after sentence by British courts martial had a deep effect. But on another occasion he saved a man from almost certain execution by the IRA who had court-martialled him as a spy. MacBride was convinced that the man was innocent and he had him admitted to a mental hospital before the IRA court could sentence him.
Serving as a courier for the Irish delegation in London during the Treaty negotiations, MacBride criticises the heavy drinking that went on. He was against the Truce and the Treaty. He had friends on both sides when the split came. On the morning of 8 December 1922 MacBride's cellmate Rory O'Connor was taken from their cell in Mountjoy and led out to his death. The anger and despair of the republican prisoners is conveyed here, as well as a heated confrontation between MacBride and a priest who was pleading to him to obey the bishops and recant his republicanism.
After the Civil War MacBride remained active with the IRA and became Chief of Staff briefly in the '30s. He was a 'caretaker', as he says himself. He believed that the 1937 Constitution removed the need for armed struggle and thereafter he concentrated on legal work. His most famous day in court was the inquest of IRA hunger striker Seán McCaughey when he got the prison doctor to say that he would not treat his own dog the way McCaughey was treated.
It was mainly ex-IRA lawyers who set up Clann na Poblachta. Seldom has a party had such a shooting-star existence. Two by-election victories, eleven seats in its first General Election in 1948, straight into government and then out in 1951, followed by decline and dissolution. Much could be said about the Mother and Child scheme controversy which dominated that Inter-Party government. Neither MacBride nor Noel Browne, the Minister for Health who wanted to implement the scheme of free medical care for mothers and babies, distinguished themselves in that affair. MacBride supported the scheme but says Browne engineered confrontation with the Catholic bishops and could have got it through if he had handled it better. Browne accused MacBride of treachery.
The Mother and Child debacle was certainly the low point of MacBride's career and he must bear a deal of responsibility for the fact that the despotism of the Catholic bishops and the elitism of the medical profession won the day.
MacBride says the purpose of Clann na Poblachta was "the bringing about of a change in government". It rushed into government with parties whose only common purpose was getting Fianna Fáil out. It had no long-term strategy and little organisational base. It failed to dent the powerful forces in Irish society, including the Catholic Church, Fianna Fáil and the Orange state. MacBride's efforts against partition as Minister for External Affairs have been deprecated by many historians but a re-assessment is surely needed. He tells here how Churchill repeated to him several times how he would not "let down" his "friends in Ireland" — the Unionist Party.
In his 1982 introduction to Bobby Sands' One Day in My Life, MacBride made clear his undiminished opposition to British rule in Ireland. He says he did not participate in the H-Block/Armagh campaign lest this be misconstrued as support for armed struggle but he lobbied the British Government and spoke on the Hunger Strike at an Irish-American Unity conference meeting in New York in 1981. By then he was a world renowned figure, promoting human rights and disarmament. This latter part of his career is not covered by these memoirs.
For anyone interested in Irish politics since 1916 this is a fascinating book about an enigmatic man and his times.
BY MÍCHEÁL Mac DONNCHA