17 November 2005 Edition
Opinion: Going for a pint? - BY MICHELLE BOYLE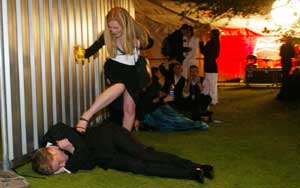 With the party season just week's away Michelle Boyle looks at Ireland's problematic relationship with drink
It is estimated, that alcohol abuse in Ireland costs the economy around €2.7 billion each year and that nearly €6 billion of personal income is spent annually on the substance.
The Irish are among the highest consumers of alcohol in Europe with a consumption rate 13.5 litres of pure alcohol per adult. Many national organisations have voiced concerns at what is described as a 'national epidemic' of alcohol abuse. Hundreds of reports have been issued on the subject. But these concerns seem to falling on deaf ears. Many may view those groups voicing concerns as going over the top or being anti-alcohol. But when you cast your eyes over the facts and figures you begin to see clearly that there is a grave social problem.
Over 2,000 people die annually on this island due to alcohol-related diseases or injuries. It is estimated that alcohol abuse costs the economy around €2.7 billion each year through a combination of lost productivity through absenteeism, accidents, crime and healthcare costs. Health authorities have stated repeatedly that alcohol abuse is causing unnecessary deaths and adding to pressure on already stretched hospital resources.
One in five Accident and Emergency admissions in Irish Hospitals are alcohol related. A study in one of the North's hospitals in 2002 showed that over a six-month period 40% of admissions to an acute medical ward were related to alcohol abuse. Alcohol is the third most detrimental risk factor for European ill health. It is estimated that the substance is involved in 40% of road deaths and at least 30% of road accidents each year. In 2002 37% of all deaths from drowning were also alcohol related.
Many believe that there is an acceptance in Irish society that alcohol is central to social activities. Consequently young people perceive an acceptance and tolerance of alcohol use and abuse. Therefore, it may not be surprising that research shows that this is a serious problem among teenagers. According to the latest research, the average age at which young people start drinking is eleven years. Last year the European school survey project found Irish schoolgirls to be the biggest binge drinkers in Europe. Almost 80% of the North's teenagers surveyed said they consumed alcohol before the age of 16. A study of 14 to 15-year-olds in Dublin found that 59% drink. Research within the Teachers' Union of Ireland found that teachers believe over 60% of 13 to 18-year-olds have drank alcohol. And they believe 80% of 16-17 years olds drink regularly on a weekly basis.
Factors blamed include the increase in the availability of 'designer drinks'. So-called 'alcopops' has been accused of making alcohol more attractive to young people. A study conducted found that it is the 13-16 age group that is particularly attracted to these drinks. Another factor blamed for the spiralling trend in young people drinking is the fact they have more disposable income than previous generations.
Alcohol abuse is clearly hugely impacting on Irish society. In the 26 Counties there has been a 370% increase in levels of intoxication in public places by under age drinkers since 1996. In June 2005 an increase in child neglect cases investigated by the authorities prompted the ISPCC to warn that drink and drug abuse among parents are a major factor in such cases. The Chief Executive of ISPCC said: "One of the biggest trends is alcohol and drug usage by parents, there is no doubt. It is a growing problem." Children are being left home alone, not being fed, and not being looked after healthwise. Hospitals are being clogged up with alcohol abuse admissions thus adding massively to our health system problems with hundreds of thousands being spent on alcohol abuse cases annually.
In January this year the Department of Health introduced new regulations, which would ban alcohol advertisements on daytime television, restrict outdoor alcohol adverts and ban sponsorship of youth leisure activities by drink companies. This was described as a 'whitewash' by many, with the Department being accused of being influenced by the drinks companies and that it's planned regulations included no meaningful restrictions on current practices and with no legislation forthcoming. Many pointed out that the organisation MEAS (Mature Enjoyment of alcohol in society) which was involved in the campaign was not independent as it was funded by the drinks industry. The Taoiseach last year stated that he favoured a ban on alcohol advertising on television before 9pm and the joint Oireachtas Committee on Health and Children favours a complete ban on alcohol advertisement. Yet, to date nothing has happened.
In February of this year Dr Joe Barry, a senior lecturer at the Department of Public Health and Primary Centre in Trinity College, Dublin stated that current government policy on alcohol serves neither the economy or society but the drinks industry.
Barry used the example of drink driving. The drinks industry headed by MEAS, suggested that designated drivers were the way to curb drink driving and began a campaign in December last year. Barry cited evidence that showed that the most effective way of curbing drink driving was to introduce random breath testing. The second Strategic Taskforce on alcohol showed 83% of the public were in favour of this measure. This was not enforced and despite the industry driven campaign for designated drivers, more people died on Irish roads in December 2004 than in December 2003. The government has stated that random breath testing will not be introduced in the foreseeable future.
Last year a Health Research Report found that the number of people abusing alcohol is double that of all other drugs combined. Cannabis mixed with alcohol was a main cause of drug problems. It also reported that, despite the high figures, the reality is probably worse than reported and "the exclusion of alcohol from national reporting systems leads to an underestimation of problem substance use and the workload of addiction services."
Alcohol abuse and mis-use is a serious social problem, spiralling more out of control by the day, yet it remains to be seen what the solution is. However there is no shortage of recommendations.
Many believe teachers would benefit from in-service training and that the drinks industry should support such initiatives. ASTI suggests advertising is key, they believe tougher regulations should be placed on advertising by the Advertising Standards Authority. They also feel an independent regulator with power of enforcement to review complaints is needed. Many sectors also feel that the current voluntary ID card system should be made compulsory.
More spot-checks on retailers, education programmes, taxation, restricting availability, changing legislation, responsible marketing, effective monitoring of drinks industry, health education, limiting the density of pubs and off-licenses in an area and stricter criteria for license extensions for youth clubs and discos have all been cited as contributory solutions.
The Government has largely ignored the issue frustrating action groups and society. It is clear that it is time for it to take a more proactive role in tackling alcohol abuse. The issue is clogging up the health service, using up valuable resources and costing millions.
With the Christmas only weeks away many families will be facing it with one less person at the table due to the government's inability to govern.