3 November 2005 Edition
Lisburn anti-gay policy under fire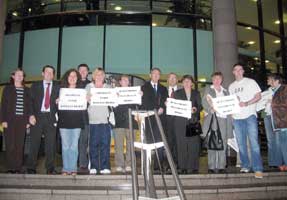 Sinn Féin held a protest outside Lisburn City Council offices on Wednesday 26 October over the decision to bar same sex couples from using the council's marriage room for civil contract ceremonies.
The council ban was introduced in June after unionist councillors passed an Alliance Party motion, introduced by Séamus Close, saying unions of same sex couples should not be afforded the same recognition as heterosexual marriage.
The controversy erupted in a week when a major conference promoting respect for people of differing sexual orientation was announced.
The Sexual Orientation Equality Conference, organised by the North's Equality Commission, will be held in the Stormont Hotel, Belfast on Thursday 1 December.
The day-long event has been organised as part of Anti-Homophobia week and features key speakers including head of the Equality Commission Bob Collins, Hilary Harbinson of the Gender and Sexual Orientation Unit at the Office of the First and Deputy Minister and James Knox of the Rainbow Project.
Speaking to An Phoblacht after Wednesday night's protest Sinn Féin's Paul Butler ridiculed the decision by Lisburn Council to ban same sex couples from using it's Cherry Room for civic ceremonies. "Lisburn Council is sending out a message that will add to the atmosphere in which homophobic attacks are carried out. Sinn Féin will be keeping the spotlight firmly on Lisburn Council and we will be raising the homophobic attitude of the council at the Equality Conference on Sexual Orientation in December."
Butler added: "Lesbian and gay people suffer discrimination and harassment in every aspect of their daily lives whether in the social, political or cultural spheres. They are denied equality of rights and opportunities and now Lisburn Council have added the gay and lesbian community to the list of people they discriminate against. It is a total disgrace. There is no logical or rational defence for such exclusion by a council which promotes it self as a 'City for Everyone'. It has become a laughing stock."
Meanwhile, An Phoblacht has learned that Robert Toner, a 20-year-old gay man, has made an official complaint to Lisburn's Equality Officer about the ban on same sex couples using the council's marriage room and confirmed he is seeking legal advice on the matter.