3 November 2005 Edition
The Fifth Column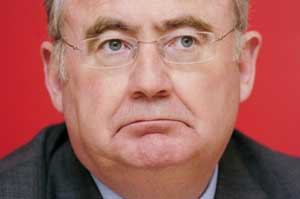 Rodge 'n' Rabbitte
The Star Sunday newspaper says it isn't spoofing when its showbiz column reveals that 26-County Labour Party leader Pat Rabbitte is to "star" alongside RTÉ TV's irascible puppets, Podge and Rodge.
The bawdy bachelor brothers from Ballydung are cult figures of the award-winning series, A Scare at Bedtime with Podge & Rodge. This is its ninth season on the telly, much to their reported disgust.
"What? They've been secretly filming us all these years? Well, we'll be on to those sly hoo-ers in RTÉ looking for our money," says Podge. Rodge adds:
"'Em, would they have filmed us in the jacks? 'Cos sometimes I do be doing things in there when I'm sleep-walking."
Now the gruesome twosome (no, not Pat and Enda -- Podge and Rodge!) will be hosting an hour-long spoof show modelled on UTV's An Audience With.... Only UTV has celebrities; we get Pat Rabbitte.
Nobody expected the Labour inquisition
Rabbitte might prefer the ribbing he's to get from Podge and Rodge to the grilling that he's due from a disciplinary hearing by his own party in the first-ever carpeting by Labour of its leader.
Sligo Councillor Declan Bree has lodged a formal complaint over Rabbitte's reaction to a local row involving Bree, who supported a Traveller Accommodation Plan and two other Labour councillors (one a former Fine Gaeler, the other an old pal of Rabbitte's in his Workers' Party days), who opposed it.
Rabbitte intervened publicly by having a letter published in the Irish Times, claiming that Bree had once used his position as Mayor of Sligo to stop Traveller accommodation going into his own electoral ward. Bree has condemned his leader's comments as "scurrilous" and untrue.
Now Rabbitte has to face the 'wrath' of an inquiry made up of people he's appointed or depend on him for their future political careers.
Naming informers in the Dáil
Rabbitte used Dáil parliamentary privilege last week to name two UVF men who he said were RUC Special Branch informers allowed to get away with the murder of 22-year-old Raymond McCord, who was battered to death by a unionist gang eight years ago.
The Fifth Column is uneasy about TDs and MPs using parliamentary privilege when naming individuals, but the question arises: why hasn't Pat Rabbitte & Co used this device before to expose RUC Special Branch collusion with unionist death squads over the past 20 years or so?
Olly folly
Pat Rabbitte's bigger political brother, Fine Gael supremo Enda Kenny, has been busy unveiling a plaque in last Thursday (October 27) to the ultra-right and late Laois-Offaly TD Oliver J Flanagan in his Mountmellick birthplace.
Oliver J, who was born in 1920 and died in 1987, was steeped in fascist Blueshirtism.
In a notorious speech to the Dáil in 1943, Oliver J advocated "routing the Jews out of the country". He famously once said on Gay Byrne's The Late Late Show that there was "no sex in Ireland before television".
And when the Fine Gael/Labour Government of 1974 introduced a bill to legalise contraception, Oliver J roundly condemned it and voted against it.
But Enda sees no problem honouring the reactionary old dinosaur at the same time as using the Labour Party to get him into power.
Easter parade
Labour Party Deputy Leader Liz McManus was on Rodney Rice's Saturday View RTÉ Radio show on Saturday, having a pop at Bertie Ahern's reinstatement of military parades to mark Easter 1916.
Liz was ever so indignant about the whole affair, protesting that she didn't want Easter being "hijacked by the Provos". But it wasn't so much republicans hijacking it, Liz, as 'Fianna Fáil - The Republican Party', 'Fine Gael - The United Ireland Party', the Labour Party, and you and your old comrades in the Workers' Party and 'Official IRA' walking away and leaving it to us.
Old bull and BUSH
DUP councillor and founder member of Bushmills Ulster Scots Heritage (BUSH) David McAllister says he doesn't want Irish-language signs going up in the predominantly nationalist Altananam Park Estate in Ballycastle, County Antrim, dubbed by some as 'Paisley Country'.
The BUSH arranger claims that Moyle Council's vote to accept Irish-language signs as well as English ones had "caused great concern" among residents in Ballycastle's neighbouring Causeway area, although why they should be upset about something in an estate where they don't live is not explained.
"People have been stopping me in the street about this -- they're not happy at all," the DUP man says. "If signs were to carry Irish they would, quite simply, not be too welcome in Bushmills."
But Macker has no problem in the BUSH push for street signs in Ulster-Scots. "We have been investigating the possibility of this for some time and it's written into our constitution. The responsibility for street naming is down to the council and it seems the time has come for the group to put in a request for Ulster-Scots street names in Bushmills."
So is DUP Davy saying it's okay for unionists but not for nationalists?
Giving it large
Saturday's 'Love Ulster' get-together of unionist political and paramilitary leaders, and the Orange Order with rank-and-file unionist folk was curiously reported by RTÉ 6-1 TV News as a "large" loyalist rally, before going on to tell us that it was attended by "5,000 people".
How is it that RTÉ never describes republican or other progressive rallies of 10,000 and 20,000 people as "large"?
Adair goes to Glasgow
One unionist paramilitary leader who wasn't at Saturday's love-in was former UDA/UFF warlord Johnny Adair.
Adair has left beautiful Bolton and headed for the wild, blooming heather of Bonnie Scotland after last week's court case where he was found guilty of battering wife Gina in front of kids in a public park.
Bolton Magistrates' Court heard that Adair and Gina had been drinking, celebrating his release from prison after serving 39 days for harassment. He turned on her, dragged her to the ground, knelt on her and was "punching her repeatedly with both arms" as terrified mothers with children looked on.
Parents reported the incident to police after they saw him drag his wife by the hair as she tried to run away.
Adair's solicitor famously told an earlier court hearing that the ex-leader of the UFF who used to boast of kidnapping, torturing and killing Catholics had "no record of domestic violence".
Adair walked free from jail but was ordered to pay Gina £250 compensation and was sentenced to a 12-month supervision order.
Now he's packed his bags and is headed to Glasgow. Bolton won't be sorry; look out, Glasgow.