13 October 2005 Edition
Sinn Féin Céad Bliain book - order now for Christmas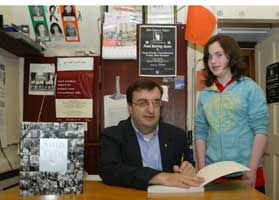 The latest local launch of Sinn Féin -- a Century of Struggle, the book marking the centenary of Sinn Féin, took place in Monaghan Town last Saturday 8 October. The book's author, Micheál Mac Donncha, signed copies in the Sinn Féin Siopa in Dublin Street where Cavan/Monaghan TD Caoimhghín Ó Caoláin had earlier presented copies to special guests.
The lavishly illustrated bi-lingual book, sub-titled Céad Bliain ar son na Saoirse, tells the story of 100 years of Irish republicanism in the words of republicans themselves. Speaking at the launch Mac Donncha said the book was intended to be "both educational and entertaining and a tribute to all those who worked for the republican cause over ten decades". It was especially dedicated to "the unsung heroes who did the mundane and routine political work, ordinary people in extraordinary circumstances". Citing the recent re-launch of An Phoblacht, he said no such book could have been written "without the unique record provided exclusively by An Phoblacht and previous republican newspapers, especially in times of censorship and repression".
Copies of the Sinn Féin Céad Bliain book, available in hardback and paperback, and which make ideal seasonal gifts and draw prizes, should be ordered now from:
Brian Dowling
Sinn Féin Book Shop, 44 Parnell Square, Dublin 1.
Phone 8726932.
e-mail: [email protected]