6 October 2005 Edition
Fifth Column
Mrs Robinson's criminal charges
The fragrant Iris Robinson, the DUP MP for Strangford, has been lamely defending her party's stonewalling over the IRA arms initiative, citing supposed IRA "criminality" for the Paisleyites' latest reason to say no. But if Iris is truly concerned about real criminality then she needs look no further than across the round table that her avowedly law-abiding DUP shares with the UDA in the North and West Belfast Parades Forum.
UDA protection racket boss Gary Owens, from Silverstream Gardens in Belfast, pleaded guilty to demanding £10,000 (€14,800) with menaces on behalf of the UDA from a building contractor in January 2004. The UDA racketeer was arrested in a police sting operation after a first visit netted him £2,500 and he came back for another ten grand. Owens received a seven-year sentence, which the judge said "would have been in double figures" if it hadn't been for his early guilty plea.
It's not known if DUP members on the North and West Belfast Parades Forum will be passing the hat round for their UDA ally's poor racketeer.
Satisfying Mrs Robinson
In dissing the IRA move, Iris says: "People will need a sizeable amount of time to be satisfied that republicans have given up all of their paramilitary and criminal activity for good."
And, dear Iris, what about the UVF and UDA?
The Gospel according to Eric
Iris's former DUP colleague and one-time Paisleyite Lord Mayor of Belfast, Eric Smyth, has no trouble letting us know what he thinks about UDA and UVF guns.
Smyth told the BBC last week that unionists "don't want THEIR BOYS to give up their weapons" — and Smyth means the UDA and the UVF, not just the RIR.
The ex-DUP councillor from the Shankill Road claimed that "frightened" unionist people "had to defend themselves somehow".
In a BBC radio interview on unionist reaction to the IRA decommissioning, Smyth did start by saying that unionist death squads should also give up their arms, but then claimed that republicans won't go back to war because they are "getting everything they want". The Paisleyite pastor complained: "They are taking away our Britishness step by step. The ordinary people can see this. This is why I don't think the paramilitaries on our side will give up their weapons.
"I don't think the unionist people would want their boys to give up [their weapons] because they are frightened.
"If we are going to down a road to a united Ireland we need somebody to defend us. If the government is not going to defend us, the people have to defend themselves somehow, to defend our right to live as we want.
"This is what people are saying: 'By golly! If it happens then we will give them'uns what they gave us."
Adair's assault charge
UDA exiles' leader Johnny Adair has admitted assaulting his wife, Gina, at their Bolton bolthole in England as they celebrated just hours after his release after serving 39 days for harassment.
Witnesses told Bolton Magistrates' Court that Adair had repeatedly punched his wife in the face and then dragged her by the hair as she tried to get away from him.
Adair's solicitor told the court that Johnny Adair had "no record of domestic violence".
He has been released on bail for sentencing on 28 October.
Down to earth
Britain's Prince Andrew airily dismissed any thoughts that he should undergo the same humiliations as us mere commoners when he arrived at Melbourne Airport in Australia.
The very grand Duke of York was on his way to New Zealand last week when he refused to go through the security checks mandatory for all passengers. Security officials stood their ground and explained to his high and mightyness that NO ONE was exempt. An airport official explained: "It was suggested to the prince that he sit down and think about it for a while." He did and then reluctantly allowed himself to be searched with a hand-held detector. Nothing suspicious was found — unfortunately.
High ranking
Prince Andrew's nephew, Prince Harry (above), who is having his royal rump gently pushed through the officer class at Sandhurst Military Academy, has announced that he wants to join the Welsh Guards.
Last week, it was revealed that five Welsh Guards have been tested positive for taking Class A drugs.
Must be a high life in the Welsh Guards.
High flying at Shannon
The number of US military flights passing through Irish airspace and using Irish airports is expected to exceed 1,000 this year, according to the Dublin Government's own figures.
Figures released by the Department of Transport showed that the level of military use of Shannon Airport is at its highest since the war in Iraq began in March 2003.
An Phoblacht Magazine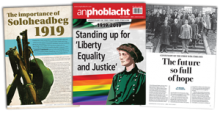 AN PHOBLACHT MAGAZINE:
Don't miss your chance to get the first edition of 2019 published to coincide with the 100th anniversary of An Chéad Dáil and Soloheadbeg.
In this edition Gerry Adams sets out the case for active abstentionism, Mícheál Mac Donncha takes us back to January 21st 1919, that fateful day after which here was no going back and Aengus Ó Snodaigh gives an account of the IRA attack carried out on the same day of the First Dáil, something that was to have a profound effect on the course of Irish history.
There are also articles about the aftermath of the 8th amendment campaign, the Rise of the Right and the civil rights movement.