6 October 2005 Edition
An Phoblacht Relaunched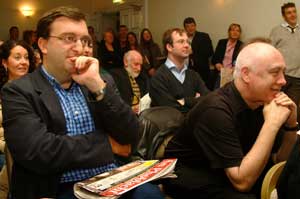 An Phoblacht was officially relaunched on Saturday 1 October at the Dublin Writers' Museum. The event, which was addressed by Sinn Féin President Gerry Adams MP and An Phoblacht Editor Seán Brady was attended by many former editors and staff of the newspaper as well as Sinn Féin TDs, members of the party's Ard Chomhairle and other contributors and supporters of the paper from around the country.
Gerry Adams described An Phoblacht as "a progressive, radical weekly paper" and an "invaluable tool of struggle" which served as "an organiser of the party, an educator, a means of internal communication and a paper of record".
The relaunch also saw the publication of a souvenir edition of the paper featuring 20 historic An Phoblacht front pages dating back to 1970.
Gerry Adams made presentations to previous An Phoblacht Editors as a mark of the paper's and Sinn Féin's appreciation of their contributions over the years.
Seán Brady said he felt very honoured to stand here today as the current Editor of a paper with such a proud tradition of fearlessness over many years in the face of political repression, raids, censorship, harassment and imprisonment of Editors and staff. He pointed out that, over the years, unionist paramilitaries had targeted shopkeepers who sold the paper in the North.
He added that while An Phoblacht was a paper of struggle and resistance, it had risen above mere resistance to challenge, inspire, and often to point ways forward in the republican struggle.
He acknowledged all those who gave so much of their time, their energy and who made genuine sacrifices over so many years to keep the paper going, week after week. "That was done for 35 years without fail, and lest anyone forget, in the most difficult of circumstances," he said.
Brady made a presentation to Production Manager Mark Dawson who he said had made a crucial contribution to the paper for over 20 years and without whom the relaunch could not have happened.
He concluded by encouraging Sinn Féin activists to renew the commitment of the local organisation to use the paper, to sell it and promote it.