6 October 2005 Edition
Collusion protest at Queens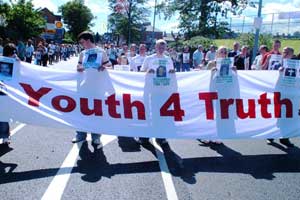 Student News: Ógra picket British Army recruitment stall
Ógra Shinn Féin at Queens University Belfast held a protest on British state collusion at the Freshers Bizarre in the Student's Union on Wednesday 28 September.
The protest was held opposite the British Army Officer Training Corps recruitment stall in a bid to highlight the policy of collusion between the British state with unionist death squads.
Barry McColgan, Ógra Six-County Organiser said: "This protest by Ógra activists shows that young republicans along with people across Ireland are demanding to hear the truth. It is time for the British Government, British Army, MI5, RUC and unionist paramilitaries to confess their role in collusion and to admit responsibility for the crimes they have committed against the Irish people.
"It is a disgrace that the OTC are allowed to recruit in this university considering students have been murdered or directly affected by the British Government's policy of deliberate murder in the Six Counties."