6 October 2005 Edition
Unionist mob threatens to dig up Catholic dead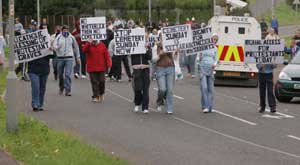 Sectarianism:
Catholics attending graveside service forced to run gauntlet of a baying sectarian mob
A unionist mob has threatened to dig up the bodies of deceased Catholics and urinate on their graves during a Blessing of the Graves service in Newtownabbey, County Antrim on Sunday 2 October.
Catholics who gathered at Carnmoney Cemetery to say prayers for their loved ones listened to threats from unionist protestors who said they would dig up the graves.
The main O'Neill Road between the cemetery and the unionist Rathcoole Estate was blocked as thousands of worshippers gathered inside the cemetery for the annual service.
Unionists held placards which read "No Whiterock then no Cemetery" and "No Catholic blessing of Protestant Graves".
One mourner who did not want to be named said there was a lot of jeering, whistle blowing and flute playing from unionists who had gathered at one end of the cemetery. "Every time we sang a hymn there was a big jeer from loyalists."
Parish Priest Father Dan White said worshippers had been left upset after loyalists threatened to dig up and urinate on the dead. "We are properly sensitive to care for the resting place of our dead; we have respect for all the dead. What happened on Sunday was nothing to do with politics, it is something seriously unacceptable and we cannot tolerate the vicious sectarianism which happened."
Democratic Unionist Party Mayor of Newtownabbey William De Courcy refused to condemn unionist protesters.
The service had originally been scheduled for two weeks ago but was put back due to tensions following unionist violence in Belfast.
The annual blessing of the graves' service has been focus of unionist protests and sectarian violence several times in the past. In 2003 Catholic graves were desecrated. Unionist protestors attempted to disrupt the service and Fr Dan White himself received a death threat from unionist paramilitaries.
Sinn Féin South Belfast MLA Alex Maskey, who heads the party's outreach to unionism programme, has said that he does not believe that the majority of unionists support the disgraceful sectarian scenes at Carnmoney Cemetery at the weekend. He added that such sectarianism is a challenge to unionism.
Maskey said: "The scourge of sectarianism is a challenge to us all. I do not believe that the majority of unionists support what happened at Carnmoney cemetery. I have no doubt that many would reject these scenes of squalid sectarianism allegedly being carried out in their name.
"There is a huge job of work required by those with influence within the broader unionist community to tackle sectarianism. Certainly I believe that we all need to show positive leadership and challenge the demonisation of each other.
"We need an open and honest debate about the nature, causes and extent of sectarianism within our communities.
"There can be no excuse for the scenes at Carnmoney Cemetery. It is essential that we stand together against the cancer of sectarianism, wherever it emanates from."