6 October 2005 Edition
Irish Ferries exposes ugly reality for many workers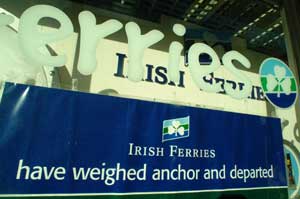 Irish Ferries: Time to consider government buyout
BY
ROBBIE SMYTH
For sale to the whims of competitiveness, international market forces and other bidders -- the soul of one small economy with two previous owners. This week the issue of €15 million and 543 jobs has caused a crisis in the Irish labour market, despite the fact that there are now over two-million people at work in Ireland and in the last year another 94,500 new jobs were created.
The Irish Continental Group (ICG) strategy to re-flag their Irish Sea Ferries, replacing Irish seafarers with cheaper Eastern European workers who would not enjoy the same quality of working conditions and regulation as Irish or EU workers has exposed the underbelly of the Irish economy where increasingly thousands of workers are on low wages, long shifts with anti-social hours and living in appalling housing and general social conditions.
In our restaurants, hotels, shops, building sites, even on our farms we have allowed and condoned the emergence over recent years of a multi-tier economy, where ever greater numbers of workers are on the lowest of incomes and live in what over the long term must be viewed as intolerable conditions. Earlier this year, it was revealed that Irish Ferries had hired through third party agencies a worker on its Rosslare route who was earning just over a pound an hour, 27 days a month, 12 hours a day.
Erosion of working conditions
Most worrying in the week's events is the dogged determination of Irish Continental management to forge ahead with their redundancy and flag of convenience plans, justified in the words of chief executive Eamonn Rothwell by the rationale that 95% of all ships entering Irish ports are now using "outsourced crews".
For now the Irish Ferries issue is parked as a result of Monday night's agreement by ICG management to enter time limited talks with SIPTU. The uneasy peace came after days of refusals by ICG management to attend Labour Court hearings on their redundancy proposals. It was only when SIPTU, which represents ships officers, secured a High Court injunction preventing the implementation of the redundancy plan that ICG agreed to attend Labour Court talks. ICG had wanted to implement the job cuts over the next three to four weeks.
Fianna Fáil bluster
The position of the Fianna Fail/PD coalition on the cost cuts has been one of bluster and contradiction. On one level the government has indicated that it will delay the process where Irish Ferries de-lists their vessels from the Irish Shipping Register re-flagging them in the Bahamas. At the same time Bertie Ahern, speaking in Leinster House, described the ICG plan as "deplorable" and "sharp practice". Ahern has also instructed the Attorney General to examine the legality of the redundancy package and see if Irish Ferries can legitimately claim state redundancy even though they are set to hire new workers on less pay to do the work of the redundant employees.
PD leader Mary Harney was more circumspect saying that she hoped "that the matters can still be resolved at the Labour Court level".
EU Ferries Directive
Sinn Féin has called on the government to back its proposals for a European Ferries directive which has been proposed by MEP Mary Lou McDonald. The directive would stop the abuse of the flags of convenience being used by EU shipping companies to escape EU regulations.
The party's Transport spokesperson Seán Crowe said that failing this, "the government should consider bringing in a licensing regime for ferries operating in Irish waters". The Scottish Executive has already implemented such a regime according to Crowe.
"It is now undeniable that Irish Ferries are running a human resources strategy that is geared towards replacing their Irish crews with Eastern European slave labour. It is not good enough for the Irish Government to wash their hands of this."
Sinn Féin Employment spokesperson Arthur Morgan challenged Enterprise and Employment Minister Micheál Martin to ensure that no worker on board ferries operating out of Irish ports is subjected to exploitative working conditions.
Speaking in Leinster House Morgan asked the government to seek agreement at EU level for the introduction of a ferries directive.
French strikers
Ireland was not the only EU state with a crisis facing its ferry workers. In France airborne commandos stormed a ferryboat that had been taken over by 50 strikers opposing plans to privatise the Societe Nationale Corse Mediterrance (SNCM), the ferry company that operates services between Corsica and France. Privatisation would lead to 400 job losses at the company.
The strikers who had captured the Pascal Paoli in Marseille were boarded by French navy special forces and the anti-terror unit of the French Police. Despite offering no resistance to the boarding, the strikers were handcuffed and arrested and the Prosecutors office in Marseille has opened a criminal inquiry which could lead to charges of piracy and 20-year prison sentences being brought against the French strikers. In Marseille Port workers staged a 24 hour strike closing the port.
Irish Ferries cannot be dealt with in isolation. It's not just about Irish Ferries. It's about the quality of life and the working conditions of all Irish workers. Recent Central Statistics Office data showed that 42% of workers in the 26 Counties are required to work on Sundays and Bank Holidays. Retail, health, transport and communication workers are all working on Sundays and other state holidays. Its not just at sea that working conditions are changing.
We need to tackle this issue at EU level first as workers, no matter where they are from, have a right to a fair wage, that gives them a dignified affordable standard of living and safe working conditions. At an Irish level we need to explore every option including that of reversing the 1991 decision to privatise Irish Ferries and take the firm back into state ownership.