22 September 2005 Edition
Fógraí Báis: Leo Cassin, Magheracloone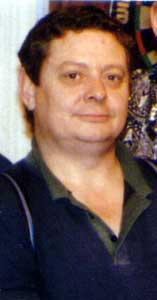 It was with sadness that the entire Magheracloone community heard of the death of Leo Cassin of Clonseady on Wednesday 14 September. The large crowds that called to Clonseady from South Monaghan and from his native Armagh City during his wake confirmed the high esteem in which Leo was held by young and old alike.
Leo was born in Armagh in 1951 and moved to South Monaghan in 1979 while he was on the run from the British forces in the occupied Six Counties. He and his family lived in Inniskeen for a time before moving to the Clonseady Estate in Magheracloone where he lived until his untimely death.
Leo was a well known and well-respected barman in the South Monaghan community liked by locals and visitors alike. He was always delighted to meet customers from his native Armagh, many of whom made the trip simply to 'have the craic' with Leo. He was a loving father to Orla, Lisa, Anraí and Colm and to his four grandchildren to whom he devoted his latter years.
In his youth Leo played football for Pearse Óg's, Armagh and remained a staunch supporter of the Armagh football team. He had worked as a welder in the docks area of Belfast, but had to leave when his workmates learned that two of his brothers were interned on the Maidstone prison ship.
Leo played a significant role in the fight for Irish Freedom having been an active member of the IRA most of his adult life. He served a number of years in Long Kesh in the early 1970s. He was present when Long Kesh was burned to the ground and was overcome by CS Gas and the heat of the fire but was carried to safety by one of his comrades. Leo was highly regarded by his fellow prisoners in Long Kesh as he was always jovial and great company, keeping up everyone's morale. There were many testimonies of this by his former comrades during the wake period.
During that time his beloved wife Brenda was also a republican prisoner in Armagh Prison. Sadly, Brenda died long before her time in 1989.
Leo was laid to rest in St Peter & St Paul's Church in Magheracloone on the morning of Friday 16 September, with a large crowd in attendance. His coffin, draped with the Tricolour was accompanied by a Sinn Féin Guard of Honour from his home to his resting place led by local Dáil Deputy Caoimhghín Ó Caoláin and Councillor Matt Carthy. Cathal Murphy laid a wreath on behalf of the Republican Movement.
Leo Cassin will be sadly missed by his five surviving brothers, his children and grandchildren, the large circle of friends that he made in Carrickmacross and by republicans the length and breadth of Ireland.
I measc laochra na hÉireann go raibh sé.