22 September 2005 Edition
Fifth Column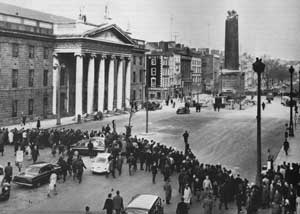 Nelson head rest
THE HEAD of Nelson's Pillar, blown up by republicans in 1966 to make the 50th anniversary of the Easter Rising go with a real bang, has been found a final resting place in the Dublin City Archive.
The granite sculpture of the English imperialist sea lord is being put on display ahead of next year's 40th anniversary of him being brought down to earth.
It will be on display in the Reading Room of the Dublin City Archive at 138 Pearse Street, Dublin 2, if you want to go along and enjoy the fallen hero.
Unionists walk over Orangemen's walk
INTERESTING TO SEE that ALL unionist members of the Belfast District Policing Partnership Board formally quit because of the PSNI strategy against loyalist violence in a statement issued through the North and West Belfast Parades Forum.
The unionists pulling out include Sir Reg Empey's UUP and Ian Paisley's DUP.
The widespread rioting, roadblocks and attacks on commercial life and homes was largely organised by the UVF after controversial Orange Order walks (ie coat trailing) in nationalist areas. The UVF and Orange Order sit on the Parades Forum alongside the UUP and DUP.
Oliver's army
A BRITISH SOLDIER who kicked a drunken man about the head in what was described by a judge as a "cowardly" attack in Belfast has been jailed for four years — but it's not clear if he will be allowed to remain as a serving soldier.
Sentencing Royal Fusilier Oliver Devoti last Friday, Judge Tom Burgess said it gave him no pleasure in sending him to prison but was obliged "to send a clear signal to others not to behave in this manner".
Devoti, who was stationed at Palace Barracks, Hollywood, County Down, pleaded guilty to a charge of grievous bodily harm after getting into a drunken fight last October.
Belfast Crown Court heard that Devoti had been walking down Belfast High Street after a night out with two friends when a drunken man allegedly shouted abuse at him "for being English". Rejecting pleas from his friends to ignore the drunk, the professional combat soldier set about him, punching him and felling him to the ground before going on to kick him about the head.
The court heard that the squaddie then walked away but then "turned on his heel" and returned to kick his victim in the head a further two times, causing a blood clot on his brain, fractures to his back and ribs, and other cuts and bruises.
Judge Burgess told Devoti that, despite "provocation" from the injured party, the fact that the soldier had returned to kick the man as he lay unconscious on the ground was "a dangerous act and a cowardly act" that could have led to more serious charges.
Not FAIR
FRESH from another one of his numerous overseas trips, this time with his loyal lieutenant, William Wilkinson, and DUP MP Jeffrey Donaldson, Armagh Globetrotter Willie Frazer is back complaining about how his anti-republican 'victims' group' needs EU cash to fund his activities.
Willie wants £200,000 from the Office of the First Minister and Deputy First Minister (OFMDFM) to run the Markethill "living memorial centre" for his group, Families Acting for Innocent Relatives (FAIR).
A PEACE II Programme funding panel turned down Willie's appeal on 6 September. Funding under PEACE II is provided for cross-community facilities. An OFMDFM spokesperson said: "The decision of the review panel, which is independent of government, was to uphold the original decision. The project was weak in a number of areas, particularly regarding its commitment to reconciliation."
Kiwi cop out
A POLICE RECRUIT in New Zealand has been fingered for an unsolved assault.
During a fingerprinting training exercise at the Royal New Zealand Police College, the recruit gave his prints which were then run through the system — and matched him to an arrest warrant for a serious assault.
His next test of the justice system is when he comes before the courts — for real.
Wonder how many RUC/PSNI Peelers' fingerprints have been taken and compared to unsolved crimes?
Dressing down
SPORTY AUSTRALIANS have been told not to turn up at parliament wearing football scarves.
The clampdown on wearing Australian rules team colours comes after a failed try by toffee-nosed officials to make security staff address MPs and visitors as "sir" or "madam" rather than "mate" because of concerns that the chamber was losing its dignity.
The red card was shown when Trish Draper, the MP for Makin in South Australia, turned up for Prime Minister's Question Time wearing her red and yellow Adelaide Crows scarf as the football season reaches its climax.
Speaker David Hawker sniffed that her team's scarf was "undignified" and violated the dress code.
Chief Opposition Whip Roger Price piped up: "Would it be all right if I wore my Parramatta colours?" He got short shrift too.
It's not clear if the ban will be extended to cricket blazers and old boys' ties.