22 September 2005 Edition
Campaigning News in Brief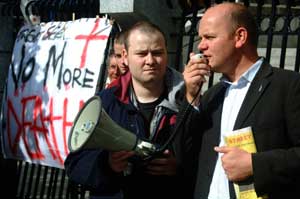 Campaigners rally against homelessness
Following the deaths of three homeless people sleeping rough in Dublin, a rally in the city centre was organised by campaigners against homelessness on Saturday 17 September. Between 200 to 300 protestors gathered at the Central Bank to mark the beginning of a campaign to challenge homelessness and compel the Dublin Government to tackle this issue.
A wide array of concerned individuals and groups, including Sinn Féin, attended. Several homeless people were present and spoke at the rally. Jeremy McHugh, a homeless man from Kildare, said: "If all the homeless people come out and sleep outside the Dáil, that's the only way this problem will be solved. We want the keys to our own doors."
Sinn Féin Councillor Daithí Doolan said it was "a disgrace that 5,500 people in Ireland were homeless while the country enjoys such economic prosperity." He called on the Minister of State for Housing, Noel Ahern to "take responsibility and action. People are dying for want of a home."
Inadequate services for homeless and drugs victims
The 26-County Government is failing to provide adequate services for the most vulnerable of people, such as victims of drugs and the homeless, according to a new report.
Merchants Quay Ireland launched its Annual Report for 2004 in Dublin on Friday 16 September. The organisation has been instrumental in service provision for drug users and homeless people.
The latest report shows the number of drug users and homeless seeking help continuing to rise, despite the inadequate level of assistance available. Detoxification units and drug free treatment beds are already under considerable pressure. There has been a 9% increase in visits to Merchants Quay needle exchange service and a 20% increase in those seeking to access its homeless service.
There is also increasing concern about the limited range of options available to homeless drug users.
Sinn Féin TD Aengus O Snodaigh has said that despite the Dublin Government's much heralded National Drugs Strategy, such issues were still not being adequately addressed.
Merchants Quay Director Tony Geoghegan said the figures reflected a lack of options for homeless people and drug users. "There are now more than 7,500 people on methadone in the state. This is a positive development. However, methadone is only one of a wide spectrum of options that should be available to those tackling their drug use. It is deplorable that there are less then 30 detoxification beds and only 150 residential drug free beds to treat approximately 14,500 problem opiate users."
Father calls for public inquiry into son's murder
Joe Reilly, the father of Dublin murder victim Kevin Reilly, has called for a public inquiry to be held into the Garda investigation of the murder of his son who was stabbed to death in Tallaght on the 15 April 1992.
In February 1993, the case was brought to trial and the accused acquitted on the basis of a technicality which Reilly says was the result of a sloppy Garda investigation. This led to the victim, Kevin Reilly, being portrayed as an aggressor during the trial.
Reilly also says Gardaí failed to interview key witnesses during the trial and this affected the result.
Joe Reilly hasn't called for a re-trial but feels it is incumbent upon the authorities to inquire about the nature of the original investigation. Many representations have been made by Reilly and other public representatives, including Sinn Féin TD Seán Crowe to Justice Minister Michael McDowell, without satisfaction.
Joe Reilly has described this situation as a nightmare and says only seeks closure.