22 September 2005 Edition
Attacks expose myth of peaceful road blocks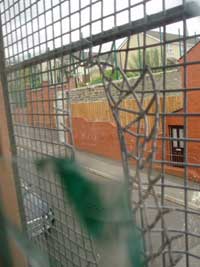 The myth peddled by the PSNI and elements in the media that unionist roadblocks, established in the wake the re-routed Whiterock Orange in Belfast on 17 September, are peaceful has been shattered after a number of attacks on motorists including a woman who was five months pregnant.
Despite a media focus on unionist paramilitary attacks against the PSNI and British Army, nationalist civilians are increasingly bearing the brunt of the Orange terror.
In the past week unionist gangs attempted to kill a nationalist in North Belfast and bombed the home of two pensioners in Derry. A pregnant mother was punched in the face by a loyalist protestor in Dunmurry, a second woman was dragged from her car at gunpoint in Lisburn and GAA clubs have received paramilitary threats.
Belfast
In the early hours of Monday morning 12 September a unionist gang attempted to break into Our Lady of Mercy Girls Secondary School on Bilston Road, North Belfast A car was rammed into the gates and set alight in an attempt to gain entry. The burning vehicle set fire to the front porch and caused major smoke damage to the school.
Meanwhile, a Catholic employee of the Mater Hospital on the Crumlin Road in North Belfast had a lucky escape after unionist protestors demanded she produce identification when they stopped her on Wednesday 14 September.
Car windows smashed
An Ardoyne man and his elderly mother-in-law were attacked by a group of women and a teenager with a golf club as they tried to avoid a unionist protest. The man, who is employed at the Royal Victoria Hospital was driving into Dunne's Stores on the Crumlin Road when he was surrounded by a 12-strong baying mob.
A unionist protestor smashed the car's rear window and windscreen with a golf club.
Schoolgirl injured
A 13-year-old pupil at St Dominic's Grammar School was struck on the head with a brick after a unionist mob hurled stones at a bus carrying pupils on Friday 16 September. Loyalist youths who had gathered at the junction of Twaddell Avenue and the Crumlin Road stoned the bus as it made its way to the Springfield area.
The 13-year-old girl was rushed to the Mater where she received treatment to a head wound.
Cars attacked on Westlink
On Saturday 17 September a number of motorists had lucky escapes after unionist youths hurled stones, bricks and other missiles at up to six cars on the Westlink in West Belfast, smashing windows and damaging bodywork.
Dunmurry
A pregnant woman was punched in the face by a loyalist after her car was caught up in a unionist blockade. The woman had stopped at a roadblock at Seymour Hill in Dunmurry at around 4pm on Wednesday 14 September when a unionist gang ordered her to turn her car and drive away.
"I had problems getting myself turned in the car because I'm five months pregnant and just got a bit panicked when one of them came out of the crowd and told me if I didn't fucking move now he would drag me out of the car and take it off me. He punched me in the face," sobbed the woman. The woman told how people just stood around and made no attempt to stop the man. "That's the sort of people that are carrying out these peaceful protests."
Glengormley
Meanwhile, Glengormley priest Farther Dan White postponed the blessing of the grave service at Carnmoney Cemetery on Sunday 18 September due to ongoing unionist violence.
Fr White, whose congregation were intimidated and threatened by loyalists at previous services, said he regretted having to make the decision, but he believed it was the right thing to do.
"May I stress this was a postponement not a cancellation. I am simply unwilling to invite large numbers of people to come to Carnmoney at a time when this might seem to be insensitive on our part. I wouldn't want our Cemetery Sunday to be interpreted, wrongly, as causing further aggravation in local loyalist areas".