1 September 2005 Edition
News in brief 2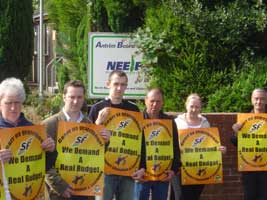 Protest against Education cuts
Cuts in the education budget of the Six-County Northeast Education Library Board (NEELB) will have a shocking impact on education within the board area, it is feared. Sinn Féin mounted a demonstration outside the Education Board buildings in Antrim, were the first sitting of the new NEELB board took place.
Sinn Féin MLA Philip McGuigan said that Sinn Féin representatives across the Six Counties would stand shoulder to shoulder with trade unionists in opposing the cuts to ELB budgets and to services such as classroom assistants and lollipop men and women.
"Sinn Féin has had various meetings with the British Minister for Education Angela Smith and expressed the party's objection to the
Budget Slashing Programme that has resulted in such devastating cuts to school services."
Senior Civil Service still cold house for Catholics
The annual report of the Six-County Civil Service Commissioners has raised fresh concerns about the community and gender composition of the upper levels of the North's Civil Service.
Sinn Féin Equality and Human Rights Spokesperson, South Down MLA Caitríona Ruane said: "Fundamentally while there has been marginal changes from previous statistics the senior levels of the Civil Service are still a cold house for Catholics and women. There are still considerable improvements for the civil service to embrace in order to achieve a representative workforce."