1 September 2005 Edition
Successful multicultural festival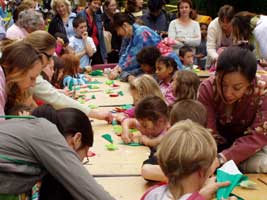 BY
SHANE Mac THOMÁIS
It was the best of festivals, it was the worst of festivals. The Dun Laoghaire Festival of World Cultures last weekend managed to combine two very distinct elements. The first and the worst was centred around the Craft Fair where white, middle-class Guardian readers showed how open they were to world culture by perusing the trinkets and bracelets made by indigenous people around the world. Thankfully their bourgeois idyll was not shattered by having to deal with the actual people who crafted these pieces as a majority of the stalls were manned by white middle-class Guardian readers.
Sadly they missed the whole point of a multicultural festival while they scrambled to purchase the many colourful baubles and ethnic clothing that were on offer. If they would like a true multicultural shopping experience, I heartily recommend to them a shopping trip down Moore Street.
Meanwhile, down at the aptly named People's Park, the real festival was taking place. The park's theme for the day was an Upside Down World where children of all ages were entertained and informed on the cultures and arts from the Southern hemisphere. Children and adults alike were shown the Chinese ancient art of Kite Flying, the Japanese art of Origami, the Aborigine art of the Didgeridoo, and heard tall stories from Maori Tribesmen, all to the live music of the Heart Beat Percussion Band.
For those wishing to dance, the Harbour Plaza was the place to be, where every type of dancing from African to Belly Dancing to Flamenco was performed and taught by the many different dance troupes that had been invited along. In harmony with all the invited groups, buskers, traders and street performers flocked to Dun Laoghaire to join in the festivities and hopefully make a few quid.
Throughout the weekend a plethora of artists performed to thousands of music fans. The highlights of which were many of the free concerts from artists such as Fun 'Da' Mental and The Mighty Zulu Nation, who formed in 1991 out of a need to publicise the injustice towards Asian and Afro-Caribbean communities in England, and Declan O'Rourke whose blend of Irish traditional with Motown complimented the multi-cultural theme of the festival.
The festival without doubt reached its aim in helping to build a positive response to integration issues and nurturing respect and understanding through the arts and entertainment. After all its hard to grow up with a prejudice to someone who first showed you how to fly a kite.