1 September 2005 Edition
Dublin MEP stands by North Antrim nationalists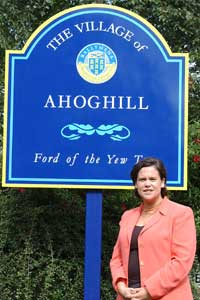 Dublin MEP and Sinn Féin National Chairperson Mary Lou McDonald and party colleague Dublin City Councillor Killian Forde visited North Antrim last week to see at first hand the sectarian nightmare that many local nationalists have been subjected to.
McDonald and Forde visited the areas of Ahoghill. Ballymena, Cloughmills and Rasharkin and spoke to nationalist residents.
Isolated nationalist communities in North Antrim have borne the brunt of a sustained unionist paramilitary campaign aimed at driving nationalists and Catholics out of these areas completely.
The PSNI has done little or nothing to help those under attack and many nationalists have been driven from their homes following incessant paint, pipe and petrol-bomb attacks against houses, schools, churches and local businesses.
Speaking in North Antrim last Wednesday evening Mary Lou McDonald said that what was being allowed to happen in the constituency against innocent families was a "disgrace".
"On a personal basis some of the stories of the sectarianism and intimidation I heard today are heartbreaking. People shouldn't be allowing politics to stand in the way of ensuring that in 2005 people are allowed to live free from sectarian harassment."
She said it was important for politicians in the 26 Counties to show support and solidarity with nationalists in areas like North Antrim. Local Sinn Féin MLA Philip McGuigan who along with Mary Lou met with representatives of the Dublin Government on the issue added: "The Irish Government has a duty and responsibility to engage more fully on this issue. They need to bring political pressure where it is needed to stop the attacks."
Councillor Killian Forde said he and McDonald had met with "ordinary non-political Catholic families who have been forced out of their homes. Now relocated in nationalist or mixed areas these families told us they feel let down — let down by the PSNI who they had been in touch with since March of this year about the threats and violence, and let down by southern politicians who have done nothing to assist them."