2 March 2012 Edition
Seven is too young
BUDGET 2012 | THE CUTS HITTING ONE-PARENT FAMILIES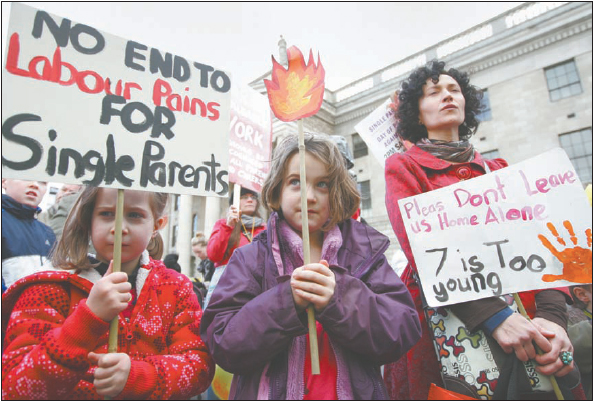 We sadly predict that lone parents will have no choice but to quit work.
THE untold story of the 2012 Budget is, without question, the dramatic changes to social welfare provision for 92,000 one-parent families. There were a set of general cuts, which affected families who rely on a weekly, means-tested social income support such as the Back to School Clothing & Footwear Allowance, Rent Supplement and the Fuel Allowance. For our families, though, there were a series of additional 'reforms' which were part of the last Social Welfare Bill of 2011:
The 'Earnings Disregard' element of the One-parent Family Payment (OFP) was reduced by €16.50 to a weekly amount of €130. And the department has signalled that this will reduce further over four years to €60 per week.
For lone parents on Community Employment (CE) before January 2012, the Qualified Child Increase (€29.80 per week per child) of their CE payment would no longer be paid from 20 February 2012.
Recipients of the OFP who begin a CE scheme will no longer receive a reduced OFP payment.
The cuts for lone parents on Community Employment had been recommended by 'An Bord Snip Nua' but following a constituency-level campaign by SIPTU, supported by OPEN and others, the previous Social Protection Minister, Eamon Ó Cuív, confirmed that he would not implement those cuts. The cut to the 'Earnings Disregard' is part of a much more worrying change as an element of the forthcoming Social Welfare Bill. This will bring the eligibility age of the youngest child down to 7 years for those on the One-parent Family Payment. This is an astounding shift in policy towards our families. The current Government had introduced a previous reform as recently as April of 2011 that reduced the eligible age to 14.
What will this mean in real terms?
Taken together, the age limit and the reduction in the 'Earnings Disregard' will mean that working lone parents will be faced with the awful choice from 2015 of having to find after-school care, which is patchy and expensive, and the money to pay for it with a reduced cushion (€60 per week). We sadly predict that lone parents will have no choice but to quit work. This will affect every dimension of their lives: their ability to remain out of poverty, the dignity of working and the self-esteem which goes with that, and their mental and physical health. Child poverty will increase, of course. And the horrible stereotyping that classes lone parents as lazy, feckless spongers and worse will continue. Lone parents who are unemployed when their youngest child reaches age 7 will switch to a Job Seeker's payment and be subject to 'Genuinely Seeking Work' requirements. Given the absence of work, this will consign them to unemployment too. What the Government is doing therefore in the name of reform and activation will have the completely opposite effect. Our families do not want to be unemployed. Economic independence from social supports remains a vital and valued goal for lone parents who dread seeing normal things like an invitation to a birthday party in their child's schoolbag.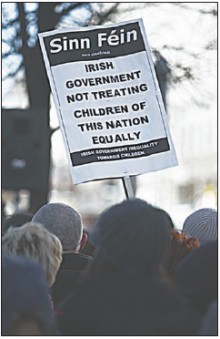 The One-parent Family Payment, with its 'Earnings Disregard' and the still new 14-year age limit, recognised the lack of a proper, publicly-funded childcare infrastructure and poverty traps as well as our unchanging reality: as lone parents, we are sole parents and sole breadwinners. None of these things have changed since April 2011, so why introduce this dramatic social policy change which will consign our already hard-pressed families to poverty and further exclusion from society? OPEN can only conclude that one-parent families are seen as an easy target. We hope to at the very least show this to be false.
Please join us in saying: Seven is TOO young! www.oneparent.ie www.facebook.com/weareOPEN www.twitter.com/OPEN_Ireland SIDELINES