23 June 2005 Edition
SF councillors push father's rights agenda in Donegal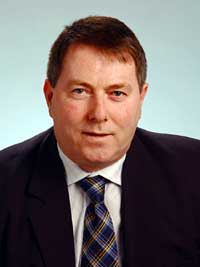 People tend not to believe what you say, but rather study what you do. We claim to be about building a political project that will create an Ireland of equals. It would appear from recent events in Donegal that Sinn Féin elected representatives in the county mean what they say.
In Letterkenny Urban Council, for example, Sinn Féin Councillor Gerry McMonagle has pushed for the town's housing policy to take on board the needs of non-resident fathers.
With the introduction of divorce in the 26 Counties, the amount of fathers in County Donegal who no longer live with their children has grown exponentially.
This has led to the creation of a group in the county comprised of such men, Forever Fathers. In April, they presented research to the County Council chamber in Lifford.
The research, which was funded by Comhairle, focused on the social and economic impact of being a non-resident father in Donegal. A main issue that emerged was that many men, having left the family home due to relationship breakdown, found themselves in substandard bedsit accommodation. This type of accommodation meant that it was impossible for these fathers to host an overnight stay with their children. Inevitably, they started to become "McDonald's Dads" if they were lucky enough to get access to their children.
After the presentation of research, it was thrown open to the councillors to ask questions of the Forever Fathers representatives. Councillor Pádraig Mac Lochlainn spoke from his own personal experience of being a single unmarried father who had managed to stay in the life of his young son, ever mindful that he had no legal or constitutional rights to his child.
His council colleague, Tony McDaid, spoke of his own son's plight as an unmarried father with no rights. Tony told the council that his son had not been able to see his child for a year. "Put me down as a non-resident grandfather!" said Tony. He made, of course, a crucial point. A father denied the right to see his child also means that, usually, two grandparents are similarly denied.
Forever Fathers made proposals to the County Council for the points system to cease the practice of treating a non-resident father as a single man and hence a low priority in letting. Councillor Thomas Pringle proffered the view that a non-resident father should get housing points.
Councillor Gerry Mac Monagle spoke to An Phoblacht about the plight of non-resident fathers and their children.
"The argument has been won on this," he said. "Now what we have to do is take action to deal with the issues." Councillor McMonagle got cross-party agreement that representatives from Forever Fathers will address Letterkenny Council in September.
Although this isn't a party political issue, nor should it become one, it is not a coincidence that those advocating such positive social change are, more often than not, Sinn Féin councillors.