23 June 2005 Edition
Anger over delays in implementing suicide strategies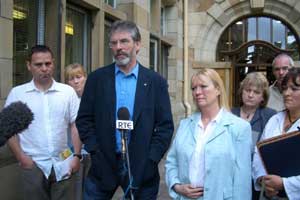 NIO Health Minister Shaun Woodward has been told by the communities of North and West Belfast that they want him to deliver on strategies, policies, resources, funding and campaigns to confront the growing and serious issue of suicide and self harm in the areas.
The communities made their demands at a meeting between the families of suicide victims, community workers and the West Belfast MP Gerry Adams and the Direct Rule Minister in Belfast on Monday 20 June.
At the meeting, Woodward said suicide prevention was a 'priority' for the British Government. He said he would be setting up a task force to collate information from charities, counsellors, families whose loved ones have died by suicide and people who self harm, in an attempt to improve mental health services.
"They may be able to offer a unique insight into this problem with practical proposals for the future. I hope by the end of August to organise a conference in Belfast, bringing together a number of professional parties and specialist groups, to address a suicide prevention strategy for Northern Ireland", said Woodward.
Woodward added that no stone would be left unturned in the attempt to co-ordinate a joint approach to tackling the issue of suicide.
After the meeting, Adams gave a cautious welcome to Woodward's assertion that suicide prevention was now a priority, but the Sinn Féin leader added, "we have heard this before but this time it must be different.
"The failure of the North's health system to tackle the issue of suicide prevention in a coherent and holistic fashion has generated considerable anger in local communities."
Adams said people working on the front line were under-resourced and called for the implementation of a crisis response team for North and West Belfast.
"The Minister told us that he accepts that this issue must be a priority issue for the health service, but we have heard this before. This time we want delivery. There needs to be proper investment in mental health and the people doing all this work given the support they require".
One of the family representatives who attended the meeting was Evelyn Gilroy, whose daughter Denise died by suicide in 2001.
Gilroy said that no matter what comes out of the meeting the families would take it forward and continue the campaign.
"The fact that we have a date when they are coming back to us is a hopeful sign to me but this has all happened before so we will reserve judgment," she said.
The meeting follows a frightening increase in suicide particularly in North and West Belfast. In 2003/'04, almost 600 lives were lost across Ireland as a result of suicide. This was even more than the number killed on Irish roads.