16 June 2005 Edition
Fáilte roimh stádas Aontais Eorpaigh don Ghaeilge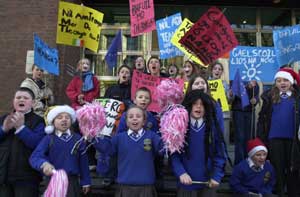 Following months of campaigning by Irish language groups and Sinn Féin MEPs, the Dublin Government has finally relented and pushed the issue of Official Working Status for the Irish language at the European Union. The decision by the European Council this week means that Irish will join the other EU languages as a functional language in all aspects of EU business from 1 January 2007.
Up until now, Irish only had treaty status, which meant that EU treaties were available in Irish. Now, all aspects of EU work can be conducted through Irish. Citizens can correspond with the EU in Irish, job applicants to the EU can include Irish as one of their language proficiencies, MEPs will be able to address the parliament in Irish and other aspects of the institutions' general communications, such as official web sites, would be in Irish.
At present there is a certain degree of uncertainty as to the full extent of the decision. Sources close to the council suggested that the Irish government were not asking for the same level of usage that, for example, French current receives within the EU institutions. Speaking following the decision, Bairbre de Brún MEP said: "As an Irish speaker I am obviously delighted that the Irish language has been accorded the status of an official working language of the EU. This announcement is a victory for campaigners from all over Ireland and further afield who continue to campaign for equality for the language."
Sinn Féin has made the recognition of the Irish language at EU level a party priority and has campaigned long and hard with other Irish speakers and Irish language organisations. As expected, the other member states unanimously endorsed what was sought by the Irish government. Sinn Féin will continue to monitor the impact of the derogation sought by the Irish government and the pace of practical improvement in the status of the language and its speakers.
Whilst recognition of the language in an international context is symbolic, it is also much more than that. The positive impact of this decision will be hugely influential for the one million plus Irish speakers and learners in this country, as well as opening up further employment opportunities for Irish speakers.
Bairbre de Brun MEP also said: "I want to pay tribute to all those involved in the Stádas campaign for their hard work and determination, which undoubtedly moved the Irish government to act on this issue. Today's announcement is a major step forward in the Stádas campaign. This is a day to celebrate for Irish speakers and campaigners."
Chuir Ceannaire Dála Shinn Féin Caoimhghín Ó Caoláin freisin fáilte roimh cinneadh an Aontais Eorpaigh ar an Luan chun stadas oifigiúl oibre a thabhairt don Ghaeilge. Tá 20 teanga oifigiúil oibre eile ag an Aontas. Dúirt an Teachta O Caoláin:
"Céim tábhactach chun tosaigh don Ghaeilge atá anseo. Cuirim comhghairdeas leis na daoine uile a ghlac páirt sa bhfeachtas fada do Stadas na Gaeilge. Bhí áthas orm cabhrú leis an bhfeachtas sin sa Dáil le roinnt bliana anuas. Léiríonn an cinneadh seo cé chomh tábhacthach is atá feachtais a chur ar bun chun brú a chur ar na húdaráis anseo in Eirinn agus san AE. Ba chóir cuimhniú nach raibh an Rialtas anseo toilteanach an moladh seo a chur ar aghaidh go dtí go raibh sé mar ceist mór sna toghcháin Eorpacha anuraidh curtha chun cinn ag Sinn Féin, i measc páirtithe agus dreamanna eile.
"Tá pobal na Gaeilge ag déanamh obair sár-mhaith chun an teanga a chur chun cinn anseo in Eirinn. Ach tá easpa deiseanna oibre do dhaoine ar mhaith leo oibriú trí mheán na Gaeilge. Tá súil agam go dtabharfaidh an cinneadh seo deiseanna oibre do Ghaeilgeoirí óga. Leis an teicneolaíocht nua is féidir alán de na postanna sin a lonnú sa Ghaeltacht agus in áiteanna eile timpeall na tíre."