16 June 2005 Edition
Who is 'Lord Laird' anyway?
BY LAURA FRIEL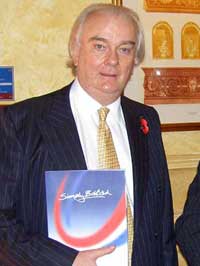 The recent outburst of an Ulster Unionist peer in the British House of Lords might have appeared to be 'extraordinary' to some commentators, but if anything the protagonist was simply acting true to form. John Laird has a long history of political extremism and has been a lifelong opponent of progressive change.
Using the British practice of parliamentary privilege, former UUP MP and now British peer Lord Laird of Artigarvan labelled the Irish Taoiseach a traitor, called for Bertie Ahern's resignation and accused Fianna Fáil of being in the pocket of republicans "through a combination of money and blackmail".
Laird went on to make a number of equally scurrilous comments against an Irish financier, former BOSI chair Phil Flynn, and a journalist, Frank Connolly. Under British parliamentary practice, Laird's outlandish remarks cannot be legally challenged.
Both British MPs and Ulster unionists have repeatedly used parliamentary privilege as a mechanism to voice controversial comments which elsewhere would be subject to libel action. The most infamous incident was comments by a then British Junior Minister, Douglas Hogg, in which he accused some solicitors of being "unduly sympathetic to the IRA". A short time later, Belfast defence lawyer Pat Finucane was shot dead.
In January 1972, Laird was one of two Stormont MPs who brought the government of Brian Faulkner to the point of collapse by resigning the Unionist whip. Laird demanded tougher action by the British Army against civil rights marches and the Bogside no-go areas. Six days later, 14 civil rights marchers were murdered by British paratroopers in what became known as Bloody Sunday.
Laird opposed the Sunningdale agreement and its modest power sharing proposals and supported the bullyboy tactics of the unionist paramilitaries who orchestrated the Ulster Workers' Strike that destroyed it. As an MP within the old Stormont regime, Laird had opposed even the marginal reforms of the then Stormont Prime Minister Terence O'Neill.
In more recent times, Laird emerged as a vociferous advocate of Ulster Scots. With all the enthusiasm of a new convert, Laird used his advocacy of a local dialect, elevated to the status of a language in the Good Friday Agreement, as a spoiler to re-direct funding away from the Irish Language movement and as a platform to launch allegations against "Dublin bigots".
A close associate of David Trimble, Laird endorsed the then UUP leader's claim that southern Ireland was "monocultural" and blighted by sectarianism. During a London press conference in 2001, Laird said, "the hard core of people with whom we have problems are actually people who are based in Dublin, who are simply bigoted".
Laird went on to brand the entire Irish nation he characterised as "anti-British, anti-Unionist, anti-Protestant, anti-Ulster Scots".
"That's the kind of hatred you get in the Irish Republic," he asserted.
Later that year, Laird went on to accuse the Dublin Government of ignoring human rights abuses against Protestants. Claiming that he had been refused a meeting with the then Irish Justice Minister, John O'Donoghue, Laird approached a visiting Chinese government delegation to raise the issue with Ahern.
"If the Dublin Government won't speak to me about human rights for Ulster Scots, I'll have to get the Chinese government to do it for me," said Laird. At a time when Western governments were raising the issue of human rights within China, Laird's intervention was a calculated if clumsy insult.
But the Ulster Scots Agency, whose spokesperson once revealingly proclaimed that tens of thousands of people spoke Ulster Scots in the North — they just simply didn't know it — was soon plunged