16 June 2005 Edition
Suicide awareness mural unveiled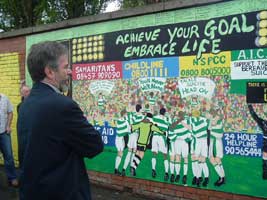 The Sinn Féin President Gerry Adams, speaking at the unveiling of a mural dedicated to the many young people from West Belfast who have taken their own lives over the past number of years, praised the courage of their families who have carried their burden of grief with such dignity.
The idea for the mural came from young people from the Beechmount area who are based in the Blackie Centre.
According to Adams, up to 60 people from across the North have committed suicide so far this year. In the previous couple of days, said the Sinn Féin President, two young people from the Shankill had been found dead. He praised the courage of a number of families of suicide victims from the Shankill who came to the unveiling.
Also speaking at the mural launch was local community worker Evelyn Gilroy, whose daughter took her own life in recent years. She thanked the young people of the area for their initiative and welcomed the many bereaved families who were at the ceremony.