16 June 2005 Edition
Death of Jon Idígoras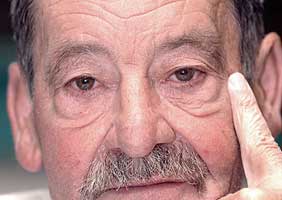 Farewell to a figure of Basque history
On 5 June 2005, Basque political leader Jon Idigoras died from complications from a respiratory illness. He was 69 and one of the most representative figures of the Basque Liberation Movement. Fulfiling his political responsibilities and dedication to the last moment, just hours before his death he called the people closest to him to his bedside: his brothers and sisters, nieces and nephews and Batasuna leaders. Jon wanted to bid farewell and offer advice for the last time.
He told his relatives to look after each other and gave members of the Batasuna's National Executive Committee encouragement to go on. "He told us he had fulfiled his obligations and asked us to carry on in the same direction," explained Eusebio Lasa, one of the committee members.
Idigoras said it was a vitally important moment for the Basque Country, it was necessary to take advantage of the situation and the Basque nationalist left was moving in the right direction. He called on them to act prudently in the face of the obstacles they were going to come up against.
Idigoras began his political career in the underground workers' groups that fought against Franco's dictatorship. His political activism took him over the border to escape Franco's forces, though he was arrested several times in the 1970s.
He returned to Hegoalde in the south Basque Country in 1976. From then on, he worked to channel the Basque separatist movement into a political force to keep alive the fight for independence from the new Spanish "democratic" establishment.
In 1978, as Spanish people approved the new constitution — rejected in the Basque Country — that upholds the unity of Spain, he co-founded the pro-independence party Herri Batasuna, which united a number of separatist groupings formed after 1974 ETA's split.
In 1998, the right-wing Popular Party government — inheritors of Franco's tradition — outlawed Batasuna, even though the PP represents only about 150,000 people out of the two million voters in the Basque Country.
In the Basque region, he was a revered figure among left organisations, and was even respected by more mainstream politicians who sought greater Basque autonomy but opposed independence.
"He has long been one of the symbols of the political fight for Basque rights," said Gorka Knörr, a former vice president of the Basque Parliament. "Because of his age, his experiences and his charisma, he was able to reach beyond his own party and command respect for his views."