16 June 2005 Edition
Omagh residents protest Army presence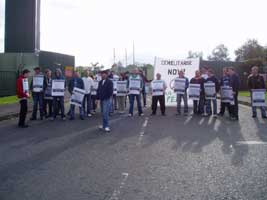 Omagh residents held a protest on Thursday 9 June to coincide with a British Army event-taking place within the confines of the army camp in Omagh.
When the protestors appeared at the front entrance to the British camp, people attending the event were forced to use the rear entrance. The protest was organised by the Omagh Residents committee and supported by Ógra Shinn Féin to coincide with the British Army 'Beat and Retreat' evening within the camp, to which figures from the business sector were invited along. The protest blocked the entrance of the British Army camp while all the time it was videoed by members of the PSNI. The protestors remained at the front of the base for an hour.
Speaking after the protest, Omagh residents demilitarisation committee chairperson Martin McColgan said: "We have organised this protest today to keep the pressure on the British Government to abide by the calls form the people of Omagh and remove this unsightly economic drain on our town. The steps taken by the British Government to demilitarise Omagh are farcical. The only thing that has happened in relation to demilitarisation in Omagh, seven years after the signing of the Good Friday Agreement, has been the removing of anti-rocket caging a number of weeks ago. What we want is full demilitarisation, not small token gestures."