12 May 2005 Edition
Ógra on the move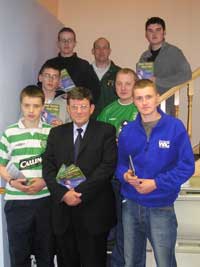 All roads led North through the last number of weeks as Ógra and Sinn Féin members in the 26 Counties came to give local Sinn Féin cumainn a helping hand in the run up to the 5 May elections.
In Omagh, Sinn Féin was joined nightly by comrades from Donegal, Monaghan and Cavan. Waterford Ógra Shinn Féin sent up members to stay for the duration of the election. Ógra comrades also came from Wicklow, Dublin, Louth, Galway and Monaghan on Saturday 23 April to give their support to Pat Doherty MP and his election team. During their time in Omagh, Ógra Shinn members held a youth canvass with Doherty.
Six-County Organiser Of Ógra, Barry McColgan, said: "On behalf of Ógra Shinn Féin and Sinn Féin in the Six Counties I would like to thank all our comrades who gave us their time and hard work to ensure that Sinn Féin increases its mandate on 5 May. Due to the all Ireland nature of Sinn Féin we can relay on comrades nationwide to help us in the elections in the North but we will also help them out in their elections also."