5 May 2005 Edition
Gama workers picket Ballymun site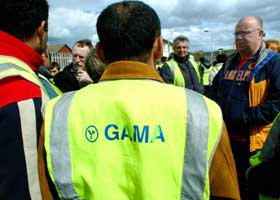 Gama Construction workers have called unofficial work stoppages on their sites across the country in protest at their working conditions and the refusal to date of the multinational Turkish-owned company to pay them in accordance with agreed rates for construction workers in this country.
The conditions of workers on the Gama sites were first highlighted by Joe Higgins last February, when he pointed out that they were being paid at a rate between €2 and €3 an hour. Their pay, the hours worked, allegedly 80 hours per week, and the conditions of their tied accommodation, amounted, he said, "to a modern version of bonded labour and the exploitation of migrant labour of huge proportions".
Local support
Support from local residents in Ballymun for the 300 or so Gama picketers has been outstanding. Local people have made tea, sandwiches and soup for the picketers as they stand outside the site.
In March the company admitted that its own internal review showed that there had been some 'potential' underpayments to workers.
Subsequently, it has attempted to deny this via an allegation that wages for the workers concerned have been paid into accounts, in their names, held in Finansbank, in Amsterdam, Netherlands. They claim these accounts have since been transferred to Turkey.
How convenient. Rights legislation in Turkey has long been a matter of contention even within the EU itself.
Meanwhile, Gama has reportedly imported another 60 Turkish workers into Ireland, and threatened last week not only to sack the existing Gama employees, but to evict them from their tied accommodation in Ballymun.
In executing this last step, the company was, however, forestalled by comments last week in Leinster House by Taoiseach Bertie Ahern that such behaviour would be unacceptable.
However the Taoiseach's intervention does not vindicate the Dublin Government, nor the local authorities, which have awarded major contracts to Gama Construction without any adequate investigation of their work practices or company procedures.
In fact, it was only on revelations by Joe Higgins that the government, in the name of Minister Mícheál Martin, announced a halt to the issuing of work permits to Gama until his department's investigation was complete.
Martin also announced an increase of some 50% in his department's inspectorate (from 21 to 30) in March.
Who are Gama?
Gama construction is a multinational company with contracts in oil and gas exploration construction across the world, including the development of the Kashagan oil fields in Kazakhstan, employing 10,000 people, and other contracts in Saudi Arabia, Eastern Europe and Russia.
In Ireland, Gama has major contracts for construction projects for Huntstown and Tynagh power stations, government road contracts for the Ennis and Ballincollig bypasses and several local authority housing developments, including the two Gama sites in Ballymun and one in Balgaddy, Clondalkin.
Since January 2004, 1,000 work permits have been issued to Gama Construction, despite the ban, since April 2003, on permits for construction workers where there is no shortage of local indigenous employees with required skills, or the requirement that the company awarded such work permits be based in Ireland.
All the contracts Gama has are government or local authority contracts. As Councillor Dessie Ellis points out, this raises fundamental questions about the government's procurement policies. "Why is it that the clear equality provisions which are part of the Good Friday Agreement governing employment in the statutory bodies, are not a part of the Dublin government's employment or procurement policies?" he asks.
More gravy
"How can it be that the government can award multimillion-euro contracts to companies which often are in a position to tender lower than indigenous competitors, precisely because they exploit workers in the way that Gama is doing.
"Only last week, the planning application by Gama Construction for the contract in Poppintree was agreed. The project is to build 270 apartments and houses. In return for this contract, Gama received the gift of the land upon which the housing is to be built and has also given an undertaking to finance €15 million provision of community facilities, including upgrading the local park, which local people have fought so hard to win."
Is this the message from Bertie Ahern to Gama Construction? To endorse the denial of wages to their workers and illegally return the workers to Turkey, where no doubt they will run into some difficulty in collecting their outstanding wages legally due them for work on government contracts?
How can the Dublin City councillors, or the government, stand over such a deal, given recent revelations about Gama?