5 May 2005 Edition
Sinn Féin President attends Hunger Strike event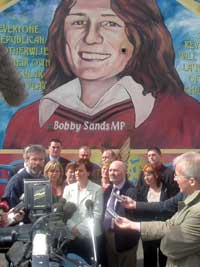 Sinn Féin President Gerry Adams was on Wednesday joined by former Blanketmen and Sinn Féin representatives for a short re-dedication ceremony at the Bobby Sands mural on the party's Sevastopol Street offices. The event came on the eve of the 24th anniversary of the death of Bobby Sands on Hunger Strike.
Former Blanketman and comrade of Bobby Sands, Jake Jackson said:
"Bobby Sands and the other Hunger Strikers transformed Irish politics by the selfless stand which they took in confronting Thatcher and her criminalisation agenda. The idealism of the Republican PoWs and their supporters on the outside was in sharp contrast to the approach adopted by the British government and the establishment parties in Ireland.
"It is ironic and symbolic that the people of the Six Counties will go to the polls on the 24th anniversary of Bobby's death. It was his election in Fermanagh and South Tyrone which made the suffering in the H-Blocks and Armagh Women's Prison an international issue. Republicans and nationalists 24 years on would have the opportunity to send out a similarly strong message to those within the British and Unionist establishments who are still blocking progress and still following a failed agenda of exclusion and demonisation when they cast their ballot tomorrow."
Speaking to reporters at the event, Gerry Adams reflected on the progress which had been made since the Hunger Strikes of 1981 but said that much work remains to be done in the time ahead.
"May 5th is a hugely symbolic date for Irish republicans," he said. "Irish society has been transformed in the years since Bobby and his nine comrades died confronting Thatcher and the British establishment and since the people of Fermanagh and South Tyrone elected Bobby as their MP and the people of Cavan/Monaghan elected Kieran Doherty as their TD.
"But much more work and effort is required from republicans in the time ahead as we chart out a course to the sort of Ireland we want to see delivered.
"I believe the way forward that I have mapped out provides an unprecedented opportunity to revive the peace process, to get the Good Friday Agreement implemented, to drive forward the all-Ireland agenda and to get political power back into local hands so that we can tackle water charges, cuts in education and other essential services.
"I have travelled widely across the Six Counties in recent weeks and there is a demand out there for the impasse in the process to be overcome and for real political progress to be achieved. That will be our focus in the immediate aftermath of these elections."