5 May 2005 Edition
Confident of success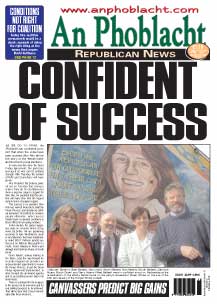 As we go to print, An Phoblacht can confidently predict that when the votes have been counted, Sinn Féin will be the story of the Westminster and Six-County local elections.
In every election since the Good Friday Agreement, the party has increased its vote and its political strength. After Thursday, the number of MPs and Councillors will have grown.
Vice President Pat Doherty pointed out on Tuesday that canvass returns from all 18 constituencies show a massive surge in support for Sinn Féin. He predicted that this election will make Sinn Féin the largest party in terms of popular support.
This success is no accident. Sinn Féin has worked tirelessly to build the Peace Process, and despite our political detractors' best efforts to convince people otherwise, voters across Ireland have responded positively to those efforts in increasing numbers.
In this election, the party is targeting seats on councils where it has never sat before. We are positioning ourselves to take Westminster seats in constituencies that have traditionally voted SDLP. Political pundits are focused on Mitchel McLaughlin in Foyle, Conor Murphy in Newry and Armagh and Caitríona Ruane in South Down.
Gerry Adams, always looking to the future, says the way forward he recently mapped out provides an unprecedented opportunity to revive the Peace Process, to get the Good Friday Agreement implemented, to drive forward the all-Ireland agenda and to get political power back into local hands.
There is a demand for the impasse in the process to be overcome and for real political progress to be achieved. That will be Sinn Féin's focus immediately after these elections.
• Deborah Devenny (East Belfast), Gerry Kelly (North Belfast), Alex Maskey (South Belfast), Caitríona Ruane (South Down) and Gerry Adams (West Belfast) were in confident mood on Wednesday at the re-dedication of the Bobby Sands mural on the party's Sevastopol Street offices on the eve of the 24th anniversary of the Hunger Striker's death