28 April 2005 Edition
Homeless forced on hunger strike
BY JOANNE CORCORAN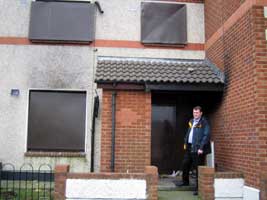 A young homeless couple from Dublin have been forced to go on hunger strike in an attempt to get accommodation for themselves and their two young children.
Roisín O'Callaghan (25) and David Glover (24) started their strike outside the South Dublin County Council offices in Clondalkin at 8am on Tuesday morning. They and their daughters, six-year-old Caitlin and four-year-old Tiana, have been on the council's housing waiting list for six years.
On Monday, they were told that they could be on the waiting list for a further three years.
The couple are originally from Quarryvale in South Dublin and Sinn Féin representative for that area, Feilim Mac Críosta, has called on the council to act immediately to help them.
"This family have been through the mill," he said. "Until recently they were living in a B&B on the South Circular Road, but it was completely unsuitable for two young children. They were continuously harassed by other occupants, and when they asked the management why there was no fire escape in the building, they were told to jump from the window if there was a fire."
The family have now moved to a B&B in Kilmainham but are still sharing one room.
"People who are suffering the horror of homelessness should not have to take this kind of drastic action to get the state's attention," Mac Críosta said. "The council must take steps immediately to deal with the housing waiting list, and ensure that families with young children receive the priority they deserve."